Supplier enablement is the strategy, planning, and execution that goes into migrating an organization's suppliers to an electronic system, such as a Source-to-Pay (S2P) solution. The goal of this effort is to optimize and automate the supplier experience – typically during an eProcurement implementation – when making transactions and payments and to increase back-end efficiencies for the organization.
Powering the best supplier enablement strategies are four key components that work together:
Direct spend to preferred suppliers.
Supplier ordering experience.
Supplier invoicing methods.
Supplier payments.
When executed successfully, a supplier enablement strategy's impact is realized in the overall effectiveness of the implementation and the resulting influence on the organization's bottom line.
Foundations of Supplier Enablement Efforts
Supplier enablement efforts can prove unsuccessful if companies fail to plan for and layer in several foundational components.
These foundational elements are the core technical requirements, change management processes, and strategic alignment – factors necessary for any systems implementation.
This ultimately becomes a balance between leadership strategy, those purchasing throughout the business, Procurement, AP, and the suppliers themselves. As illustrated below, it's vital to properly address the who, what, where, how, and why.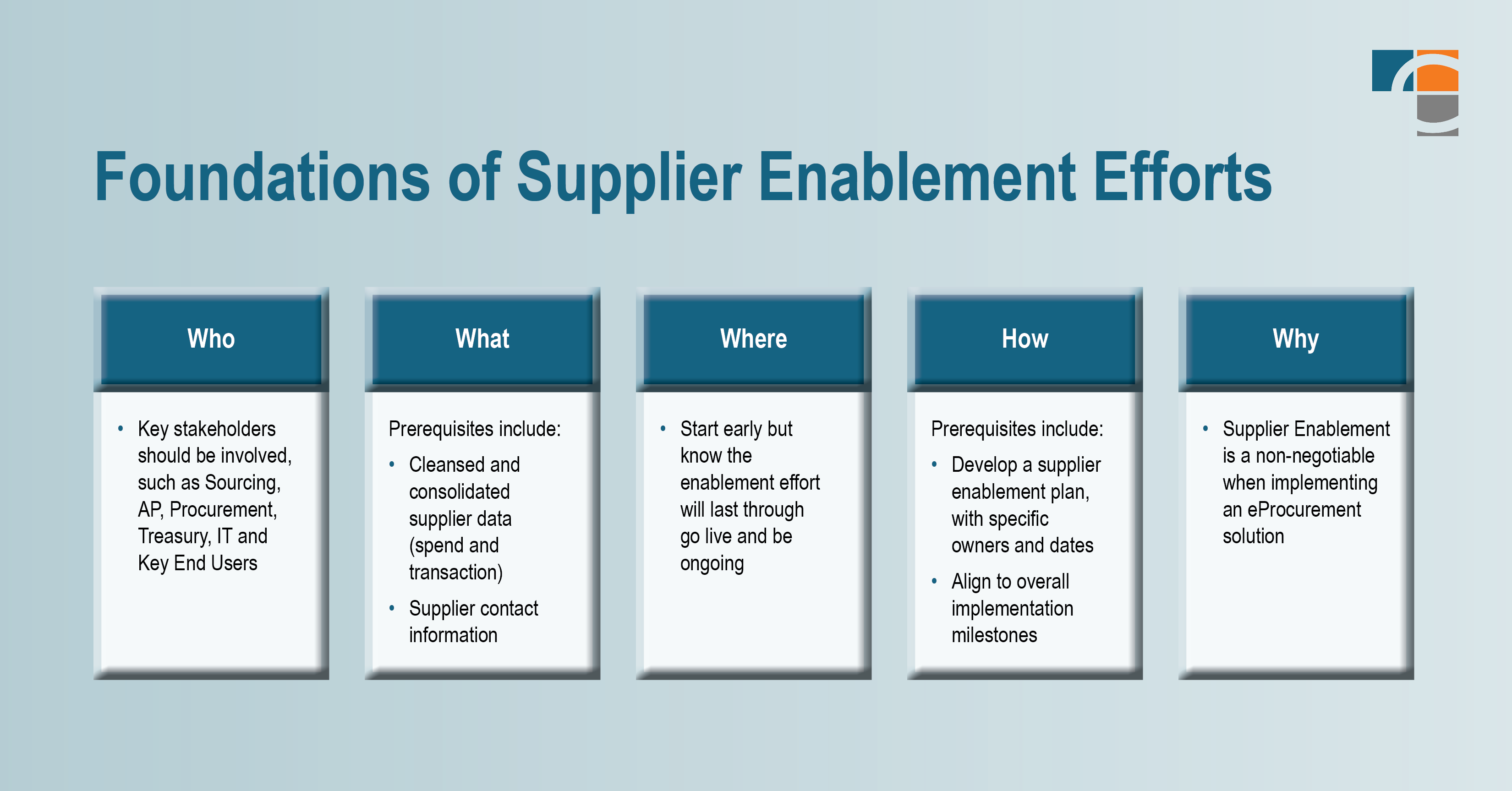 Supplier Enablement Strategy: Where and How to Begin
1. Direct Spend to Preferred Suppliers
Loading suppliers: Rationalize active supplier list so that those brought into the new system are suppliers the company intends to transact with in the future. Determine necessary controls to limit access to certain suppliers by user type, subsidiary, etc. Lastly, align on the method in which these suppliers will be brought over into the new system.
Onboarding, supplier approval, and third-party risk management: Ensure spend is with approved suppliers that have passed required risk and security onboarding requirements.
Guide end users to preferred pricing and suppliers: Leverage guided buying techniques (e.g., preferred supplier list, hosted catalogs, punchouts, etc.) that direct end users to preferred suppliers known to yield the highest quality and/or greatest cost-effectiveness.
2. Supplier Ordering Experience
Order automation: Enable suppliers so that orders can be automatically transmitted, receipt of goods and services can be easily confirmed, and invoices can be quickly created from goods and services provided. A key selling point of supplier enablement to suppliers is the faster time to invoice and receive payment.
Supplier-driven ordering process: Although automation is preferred, some strategic suppliers without ordering flexibility will drive the need for manual ordering procedures to remain (e.g., manual, phone, custom seller platform orders, etc.).
3. Invoice Processing
Invoice automation: Like orders, invoices received via preferred automated channels are proven to have the lowest Accounts Payable (AP) burden, allow for higher first-time invoice match rates, and contain the fewest errors that often result in supplier disputes.
Manual invoice processing: In theory, all invoices should be received automatically, but certain non-PO suppliers (e.g., regulatory bodies, utility companies, small businesses, etc.) continue to drive the need for manual invoicing procedures. Although manual invoicing methods should be limited where possible, enabling technologies such as Coupa InvoiceSmash and Optical Character Recognition (OCR) tools can provide a supplemental solution when it is required.
Eliminate need for certain invoices: The shift from traditional payment methods to real-time payments was highlighted as the No.1 payment trend in 2022. Companies can reduce the processing costs associated with high volume and lower dollar spend by transacting on orders through virtual cards or travel & expense cards. While they add value, these decisions should be supported by clearly communicated Procurement policies and supporting spend approvals through these channels.
Design for invoicing regulatory requirements: Ensure invoice templates and processes provided to the global supplier meets regulatory invoicing validation requirements in all relevant geographies. Procurement tools such as Coupa offer templates that can be leveraged in most global invoicing scenarios.
4. Supplier Payments
ACH: Automated Clearing House (ACH) has widely been viewed as a preferred payment method given its timeliness and cost-effectiveness.  Historically ACH was limited to domestic payments, but payment platforms such as Coupa Pay allow for cross-border payments to be made via ACH to most countries. The only requirement is collecting bank information during the supplier enablement campaign. 
Virtual cards: Although virtual cards were briefly mentioned to avoid invoicing effort, there is another important benefit to note here. Through a pre-negotiated virtual card program, companies can achieve valuable cash rebates for the spend they transact through virtual cards. More than 50% of suppliers accept virtual cards as a form of payment, and, given the quick payment turnaround by issuers to supplier, this payment method can be a great way to build strong supplier relationships while simultaneously improving working capital. Ensure card delivery methods are well-documented as part of the overall enablement strategy considerations.
Early payment discounting: As previously noted, supplier enablement strategies are more enticing to suppliers when it means they will get paid faster. For companies that have laid out working capital strategies, communicating a willingness to pay earlier at a discounted rate can lead to both direct cost savings and use of preferred methods for transacting with that supplier.
Checks and wires: Like ordering and invoicing, having processes for other less preferred payment channels to suppliers (e.g. checks, wire payments, etc.) is recommended but should be kept to a minimum for only those suppliers or payment scenarios that require these methods.  Most suppliers today prefer electronic forms of payment. While digital checks offer more efficiency due to their digital delivery capabilities, escheatment process requirements continue to make this less desirable. Wires carry high transaction costs and require manual work with the bank to initiate. While trying to establish a banking structure to avoid wires, consider all account structure, legal entity, and tax implications first.  Even with the potential implications, growing transaction volumes may help the business case for making these changes. 

Step by Step: How to Execute a Supplier Enablement Strategy
1. Discovery
Take the time to aggregate data around current spend (e.g., volumes, dollars, suppliers, categories, payment methods, etc.) and begin thinking through overall goals and objectives related to the future state. Capture all spend in your analysis (e.g., include T&E, Pcard). eProcurement tools such as Coupa do a wonderful job of supporting this analysis by identifying suppliers already transacting under preferred methods.
2. Supplier Segmentation
This is also a great time to transform the supplier model, cleanse supplier data, and rethink the way your organization purchases to have more spend under management going forward. When segmenting suppliers under the enablement methods, it's important to think about the level of effort internally and for the supplier under each method.
3. Campaign Strategy
After segmenting spend and selecting the preferred way to order, process invoices, and pay suppliers, companies should design an outreach campaign with a clearly defined contact approach, timeline, and collateral build/approval ownership for each scenario.
Note: Payment is often considered most important for suppliers and thus can often be used as leverage for preferred enablement methods for ordering and invoicing. Suppliers want to get paid!
4. Enablement Execution
The execution of an enablement strategy can be grouped into several successive phases, as seen below: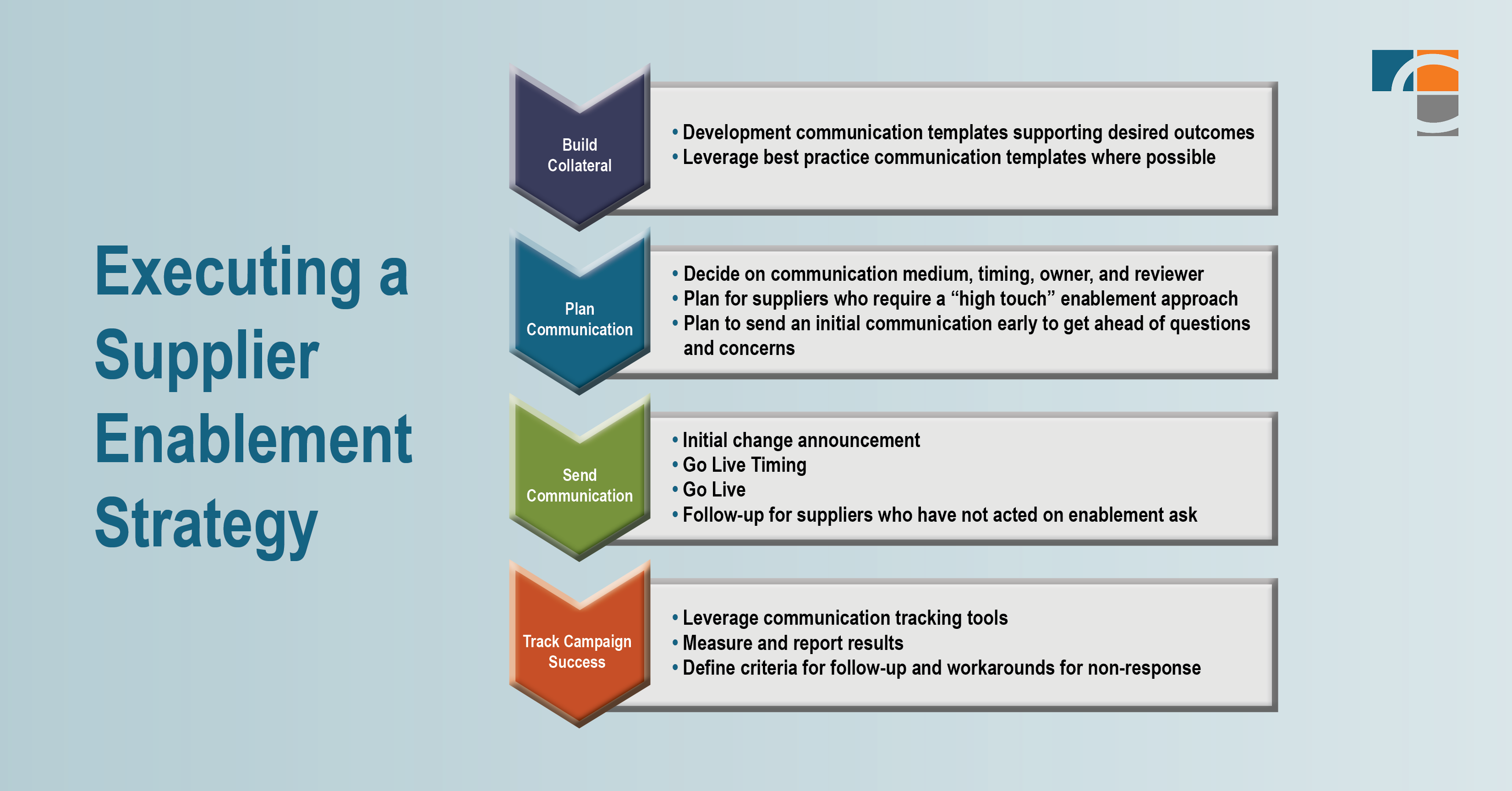 Adapt and Optimize Supplier Enablement Continuously
Supplier enablement is not a 'one-time' activity; it is everlasting. It should adapt as the business evolves over time. Here are a few considerations:
Guide suppliers to company-specific design: Provide clear job aids that specify required supplier procedures.
Consider renegotiations and new contracts: Tailor language for new and repeat supplier contracts that favor preferred enablement methods.
Encourage supplier to attend training: eProcurement tool providers (such as Coupa) will host sessions or webinars directly with suppliers.  Ultimately these suppliers can learn to be successful when transacting with any customer who uses these solutions. Consider providing training directly to suppliers who would provide strategic value by transacting through preferred methods.
For expert supplier enablement solutions, contact CrossCountry Consulting.