Selecting an implementation partner for your Source-to-Pay (S2P) project sets the trajectory and ultimate success of your strategic sourcing and procurement initiatives. Given the variety of S2P vendors on the market – the procurement software space will be valued at $9.5 billion globally in the next five years – one of the primary factors separating good from great is the implementation partner executing the project.
When implementing a leading platform like Coupa to manage procurement, payments, and supply chain, selecting the right partner will have outsized impact on success due to how far-reaching and foundational the software is to core business operations and objectives.
Here's what to consider to make your Coupa rollout effective, efficient, and forward-looking:

Experience and Repetition
A correctly implemented system reduces timelines and iterations while enabling you to more quickly generate savings. Implementation partners with more experience might skew more expensive, but the total value received across the project lifecycle is immeasurable. Beginning with design and configuration and through to post-production support, an expert partner should have a long history of leading Coupa projects across ERPs, countries, and industries. 
Auxiliary Services
Coupa partners range from global multinational services firms to boutiques that implement only procurement applications. Choose a partner that fits the needs of your company at the right cost structure, one that brings lateral but critical competencies to the implementation, such as accounting advisory, controls, risk and compliance, cybersecurity, and more. Coupa's impacts do not live in a silo, so a partner with a breadth of experience outside implementation alone can help you see around corners, continuously optimize in any business environment, and deliver a more holistic perspective to every project.
Procurement Transformation
To fully transform the S2P process, it takes more than software. It requires a new culture within the organization, powered by new capabilities and skill sets. End users and admins will need training; executives will need the ability to pull rich analytics; purchasing teams will need the intuitive ability to identify additional automation and cost improvement opportunities. Not every implementation partner is capable of pulling Coupa through to new areas of the business and empowering them to use the platform in efficient, innovative ways.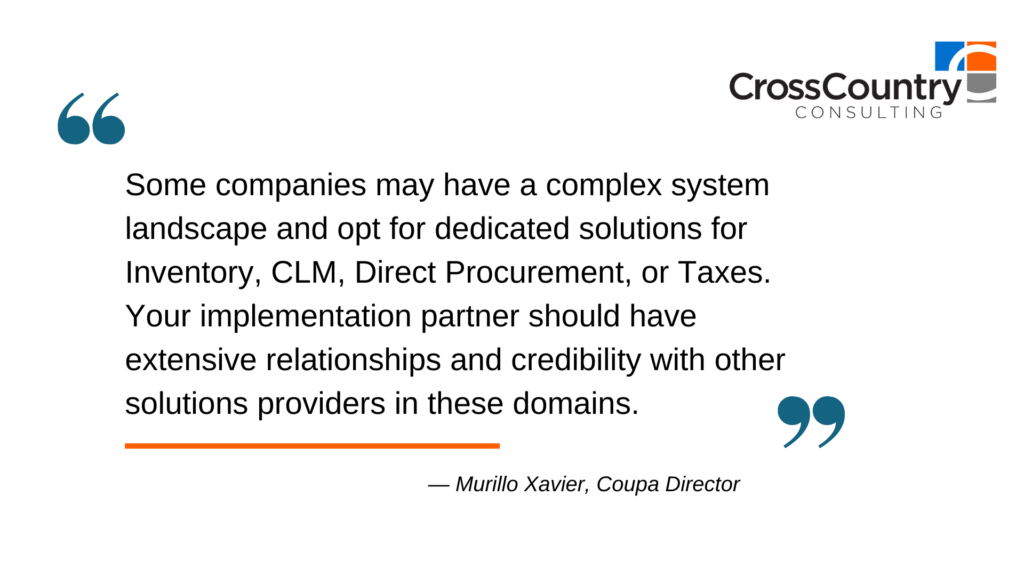 Flexible Payments
Pricing structures often fall into a few categories: Time & Material; Fixed Fee; or Risk. The pricing structure typically dictates payment terms, but as any business leader knows, payment flexibility can make or break a relationship during trying economic times. When considering that complex implementations can span more than a year start to finish, your firm's financial situation is likely evolving during that time frame. A partner that grants payment flexibility is a value-add. 
Hybrid Delivery Models
Due largely in part to the pandemic, virtual consulting is the norm. That said, "virtual" doesn't have to mean low-cost offshoring to teams across multiple time zones and with variable availability and expertise. Implementation partners that offer multiple delivery models provide the best opportunity to complete projects on time, on budget, and in a way that creates a positive, memorable experience. Top implementation partners can conduct project work remotely (saving you on travel costs, for instance), but do so through a 100% onshore model or a hybrid model that leverages offshore resources for specific use cases to minimize costs while improving efficiency. The key is to at least have the option of choosing an adaptable delivery model that works for you.
Post-Production Services
After Coupa is live, clients still need personnel to manage the system. These activities are typically support calls, running periodic reports, managing user profiles, adjusting approval rules, and others. Leading consulting firms dedicate departments to managing Coupa systems on behalf of clients, which allows day-one readiness with an experienced hand on the wheel. With this level of service, you can focus on maximizing Coupa's value rather than simply maintaining the system. In this way, you're able to achieve greater, more durable ROI faster.
Pre-Configured Integrations
Coupa usually has multiple integrations with ERPs and other systems. The technical design and construction of these integrations may take considerable time and resources, which is why it's beneficial to partner with a firm that offers flexible pre-configured integrations that can be adjusted for each situation and even monitored by the consulting company themselves. It's a great option for companies with limited IT resources that would like to accelerate their implementation and remove a layer of complexity.
Automation
Even though Coupa is highly automated, there may still be some processes or data preparation requiring human intervention prior to handing the information off to Coupa. For example, the consumption from a vending machine needs to be translated into a proper purchase order prior to migrating to Coupa. Some of these processes may benefit from additional automation, which an implementation partner should be capable of executing.
Integrated Systems Approach
Some companies may have a complex system landscape and opt for dedicated solutions for Inventory, CLM, Direct Procurement, or Taxes. Your implementation partner should have extensive relationships and credibility with other solutions providers in these domains. A large network allows partners to be cross-trained in relevant areas to your business, offering another key upside to working with an experience partner. For example, the knowledge and foresight to integrate Coupa with other systems like Amazon Business extends the ROI of the implementation and ensures your technology stack works for you, not against you.
For expert Coupa implementation services, contact CrossCountry Consulting today.