An implementation partner is the strategic advisory firm that executes the successful deployment, integration, and post-production support of software. The implementation partner is typically an approved, outsourced vendor of the software provider and knows the technology, best practices, and roadmap to configure an implementation to each specific client's needs.
The full implementation lifecycle goes beyond the initial deployment. Consulting firms also provide additional stakeholder training, change management guidance, project management leadership, helpdesk support, and systems optimization to ensure a software implementation is fully operational and optimized within the environment of each business.
The Scope of an Implementation Project
Implementations take many shapes, and every project is unique to the business, use case, and end user.
In some cases, an organization requires only a bolt-on application or integration to an existing technology platform. For example, Salesforce customers may only make use of a fraction of the Salesforce ecosystem and may at some point in the future wish to add another native tool, like Pardot.
Similarly, external technologies may be leveraged through a custom integration or API. This is the case with integrating tools like Quickbooks or Dropbox with Salesforce.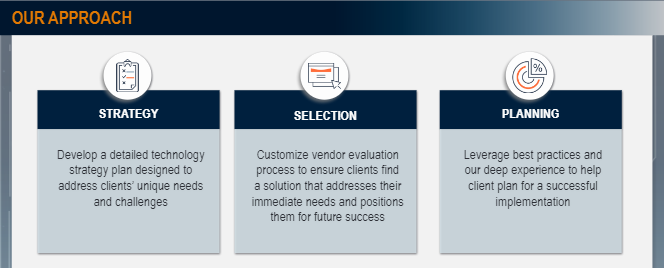 Generally speaking, the checkpoints of an implementation project often boil down to:
Preparation
Initiation and alignment: understanding the goals of the project, its requirements, and its alignment with the larger business.
Landscape documentation: an analysis of how and where new technologies will fit into the organization's ecosystem, challenges that may be encountered, and further efficiencies to be gained at a future state.
Concepting
Vendor evaluation: utilizing a framework of criteria to determine which software provider and implementation partner is best suited for the project.
Systems strategy and selection: weighing which specific internal and external systems and integrations are required to achieve goals while remaining on budget.
Design: the development of an implementation roadmap, change management procedures, and technical, and design requirements.
Development
Construction: building and programming the functionality, modules, and experiences needed.
Configuration: optimizing for applications, integrations, and best practices while managing changes strategically throughout the system.
Staging Deployment and Testing
System integration: limited initial deployment of software in a closed environment to ensure integration success.
User testing and prototyping: rooting out bugs and inefficiencies while refining functionality for maximum user experience and adoption.
Business process training: defining the documentation, guidelines, and training materials necessary for users to understand and best utilize the software.
Go-Live
Cutover: switching from the legacy system to the new system.
Optional phased deployment: retiring portions of older systems while phasing in new software modules, or rolling out new software to certain teams/applications at a time before the business as a whole.
Post-Production Support
Regulatory, financial, organizational, and time constraints are factored into an implementation, ensuring the software is right-sized for the business. Additionally, any form of digital transformation requires a concerted push for employee adoption and engagement.
The best technology cannot overcome poor adoption and an underwhelmed employee base who are now tasked with conducting their work within this new system. Over time, resentment resulting from a poor software selection, misguided implementation, or subpar training can impact operations, satisfaction, and business outcomes.
Implementation Projects for Cross-Functional Needs
A software vendor and implementation team can deploy point solutions more quickly than transformative systems designed to sunset full suites of technology.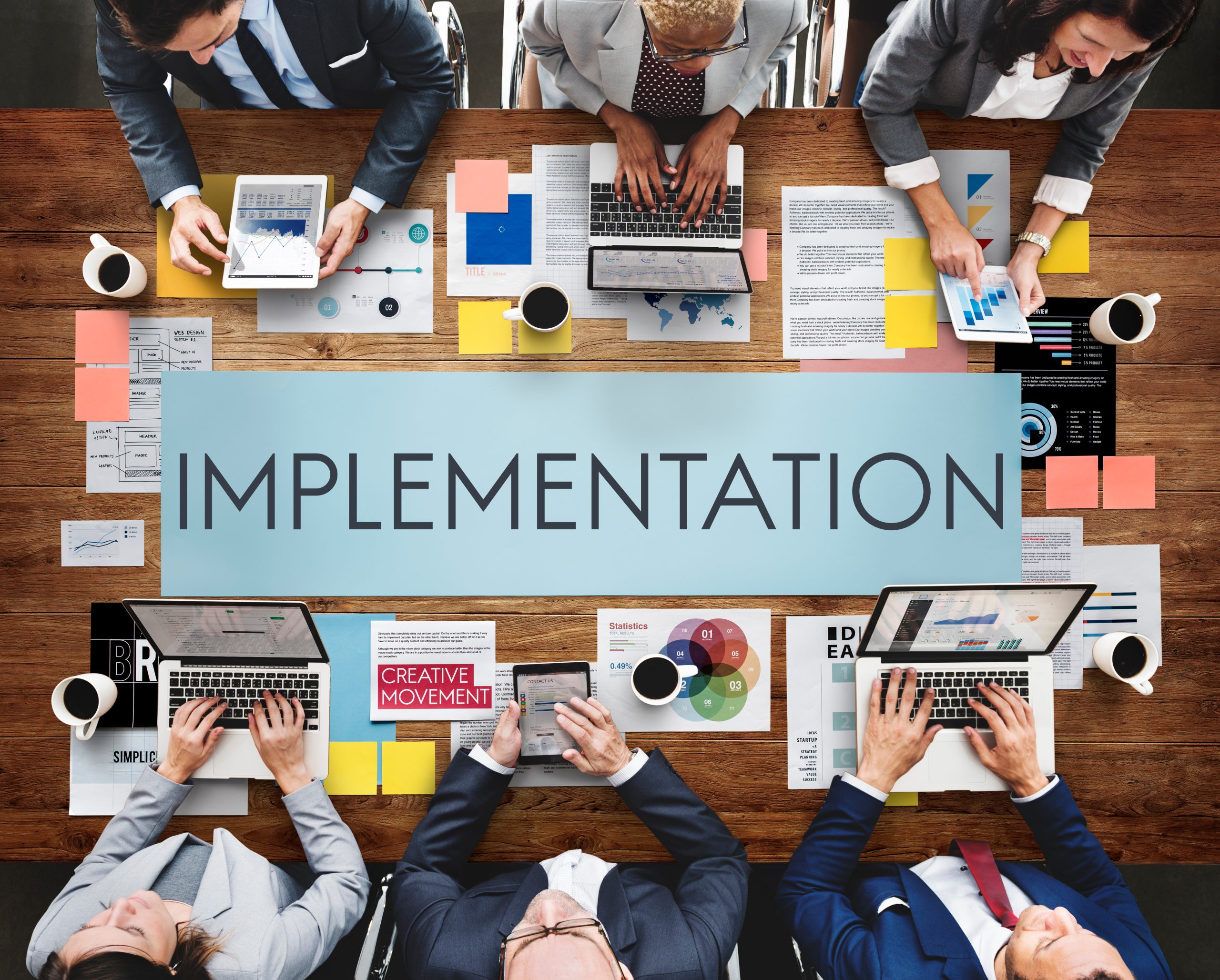 Common business technologies and web applications, like Slack or Microsoft Office, don't require strategic advisory for the most part. But comprehensive accounting, automation, procurement, and job application software with high usage volumes and data flows often requires professional services, industry expertise, and a dedicated technology partner or managed services provider to pull off a successful implementation.
Larger implementations may also result in the reformation of human capital, a factor that must be considered in the very early stages of the project.
A good partner can implement both ad hoc solutions and an enterprisewide platform that stretches across multiple functional areas. For instance, a platform that brings HR and Finance functions into a single cloud can retire many of the existing applications and technologies those teams were using.
Enterprise Resource Planning (ERP) tools can similarly serve multiple purposes for multiple lines of business, serving as the foundation upon which all other applications are bolted onto.
These types of implementation projects can take six months or even a year to complete depending on budgets, compliance requirements, stakeholders, and urgency. Outsourcing or co-sourcing implementation work allows firms to leverage niche technological expertise, approved vendor relationships, and process design experience unavailable internally.
Working With an Implementation Partner
Implementation partners wear many hats.
While every partner varies, the right implementation partner should be able to own every step in the process from start to finish inclusive of technology, training, human capital, and post-production support. They are strategic to specific needs but also to considerations that clients may not have even factored in, such as ways to reduce technical debt, scaling recommendations for the future, or mechanisms for winning over skeptical process owners or stakeholders.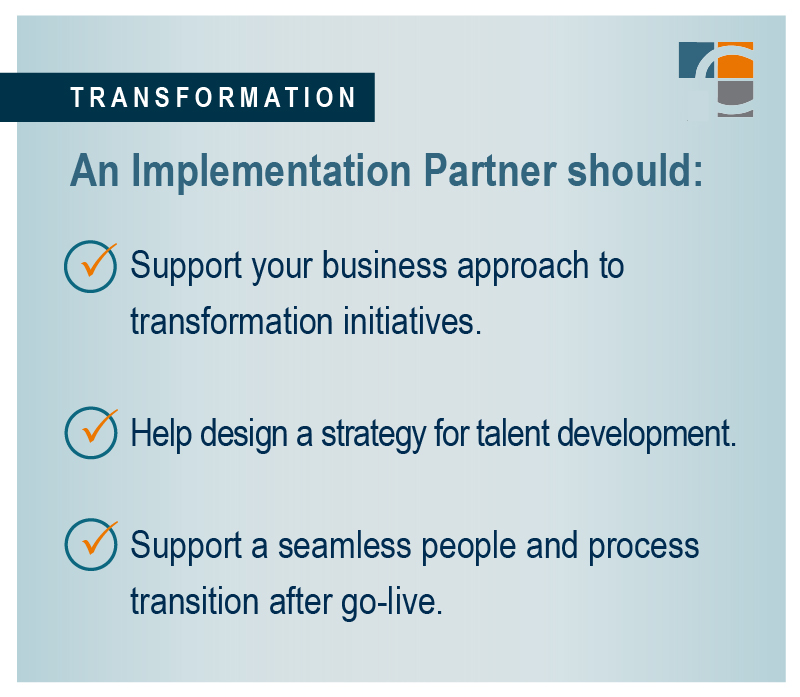 Other questions to evaluate when selecting a vendor or partner are:
Are certified resources dedicated to this project for the entire duration, or will consultants be pulled into and off the project?
What is the caliber and hierarchy of consultants dedicated to this project?
Who's responsible for ongoing maintenance and updates that might not be clearly defined in an existing SOW?
How configurable, customizable, and scalable is the software itself and the implementation solutions provided now versus in the future?
What are the expected change management obstacles and what will be done to overcome them?
What types of privacy, risk management, and licensing agreements are part of the process?
How does a consulting partner fit into our vendor management program?
An implementation partner supports not just digital transformation today but full-scale business transformation every day in the future.
For expert support in transforming your business through your next implementation, contact CrossCountry Consulting today.