In 2021, the global marketing for vendor risk management solutions reached $5.7 billion, a figure that's projected to more than triple by 2030.
The impetus for such sector growth is the burgeoning demand for stronger vendor management security as the number of third parties organizations use skyrockets.
Unfortunately, 45% of organizations still use spreadsheets to manage IT and non-IT third parties. As a result, it's increasingly time-consuming and complex to report on vendor risks. When it takes several months to conduct a meaningful third-party risk audit, meeting compliance deadlines becomes challenging.
So how do businesses approach their vendor management lifecycle amid so many constraints and antiquated processes? Many don't have a consistent framework, let alone a methodology to know where to begin.
The time to construct and optimize a vendor management program is always yesterday. The second-best option is right now.
What Is the Vendor Management Lifecycle?
The vendor management lifecycle is a framework for organizing, optimizing, and managing vendor relationships throughout all phases of contract duration, including pre- and post-contract. The goal of a sophisticated vendor management system is to bring structure, transparency, and integration to procurement strategy decisions.
As new vendors are onboarded and others are retired, businesses require a consistent, continuous intake and exhaust valve to ensure the entire vendor ecosystem that powers the business maintains compliance with internal and external controls, averts business disruptions, and improves operational performance.

Every bolt-on, plug-in, tool, and go-live has cascading effects throughout the business, so monitoring the vendor lifecycle and minimizing vendor risk is imperative not just for the primary team or business unit involved but for the entire organization.
The 5 Components of Vendor Management Lifecycle Optimization
When looking at the key cogs that comprise the lifecycle of a vendor, the type of management oversight evolves over time. In other words, early-stage vendor management necessitates varying actions from the procurement and risk management teams relative to the actions near the middle or close of the cycle.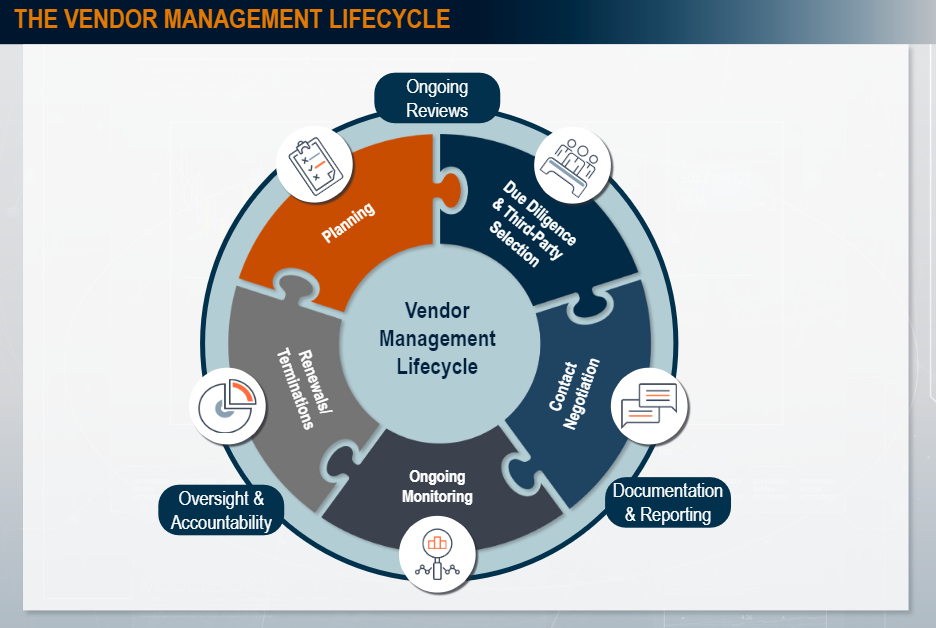 1. Planning
When strategizing on how, why, and when to implement a vendor management program, the first step is the planning process. In this phase, stakeholders level-set on:
The ultimate goals and desired outcomes of vendor management (e.g., cost reduction, specialized expertise, internal controls, etc.).
The scope, duration, and maturation of the vendor management plan (e.g., how will the program be monitored and enforced on an ongoing basis and by what benchmarks is the program considered to be fully operational or successful).
Change management, document ownership, and account management of each vendor relationship and how these responsibilities and processes can work in synergy and independently.
Potential roadblocks.
2. Due Diligence and Third-Party Selection
Each vendor contract should align with the company's firmwide risk management strategy, inclusive of third-party risk requirements, cyber and data security mandates, and even environmental, social, and governance (ESG) objectives.
Stakeholders must execute complete due diligence in vendor selection and vendor management to ensure the right partners are onboarded not in a silo but with the broader organization in mind. Considerations in this phase can also include:
Defining a vendor risk management governance structure.
Designing future-state process roadmaps and documentation.
Integrating internal or external tools capable of sourcing key vendor metrics and subsequently pulling those figures into other reporting databases and dashboards for compliance, transparency, and efficacy purposes.
3. Contract Negotiation
The fine print of the vendor contract is when the planning and due diligence preparation come to fruition. Beyond the broad strokes outline of the vendor service, the terms of the contract must be consistent with the organization's existing third-party vendor ecosystem and established risk management policies.
When evaluating vendors and vendor contracts, protection must be assured. Mitigating risk can take the form of:
Assessing the completeness, conformance, and consistency of the representative samples and final contracts.
Evaluating additional or native technology solutions that can close vendor risk gaps and prevent bypasses of contract and vendor reviews.
Updating relevant policies internally and within the contract to bring all parties into alignment.
4. Ongoing Monitoring
Vendor management is a continuous lifecycle, meaning there isn't a start and stop to the process. It must be faithfully implemented and executed daily via the right controls, processes, and governance structures.
Ongoing monitoring of vendor performance, including vendor risk, enables organizations to conduct more thorough vendor reviews and apples-to-apples comparisons of current vendor metrics. This data can be used to score vendor performance and maintain compliance with initial vendor agreements and previously defined internal organizational goals.
Monitoring can:
Assess risks and impacts of violations to vendor agreements.
Bring risk management plans and processes in line with benchmark industry standards, with a focus on security and compliance.
Inform the selection and procurement of adjacent or future software purchases that can support third-party risk management (e.g., vendor management software, contract management software, supplier data automations, etc.).
5. Renewal/Termination
Depending on the nature of the agreement and the performance of the vendor, unexpected terminations may occur. Similarly, points of contact, software features, and pricing may change before or during each renewal period. This makes the overall relationship with each vendor a malleable event that must be continuously monitored, evaluated, and scored.
At the final stage of the vendor management lifecycle, it's important to:
Perform strategic reviews of upcoming renewals.
Plan for contingencies in the event of terminations.
Design and update policy documents based on the decisions made in the review period.
The process of managing vendors should be a critical consideration early in the procurement process, even when strategic sourcing of potentially multiple vendors has yet to kick off in earnest. By having coherent, enforceable documentation around supplier onboarding, supplier performance, and service management paired with repeatable risk assessment protocols, third-party risk throughout the entire vendor supply chain can be appropriately measured and managed.
For expert support strategically sourcing, selecting, and implementing third-party vendor software, contact CrossCountry Consulting today.