Traditionally, corporate credit cards or purchasing cards have implied a shared, plastic card stored within a physical location (usually a coworker's desk or wallet). Today, organizations looking to modernize payment and cash management are turning to virtual cards issued by leading Business Spend Management (BSM) platforms like Coupa.
Virtual Card vs Physical Company Card
Virtual cards can be used like traditional company cards: planning corporate events, booking travel, boosting employee engagement, or throwing a team-wide pizza party. However, virtual cards also have a leg-up on traditional company cards:
Preapproved spend and compliance: Virtual cards can be generated after a request for spend is approved, validating that proper approvals are secured before the card is even generated.
Fraud Prevention: Virtual cards have a defined number of valid days making them less susceptible to theft.
Pre-Set Spend Limits: Virtual cards have pre-set card limits ensuring that the card is not over-charged by the supplier or employee.
These advantages make virtual cards multi-functional and multi-purpose for organizations of every kind.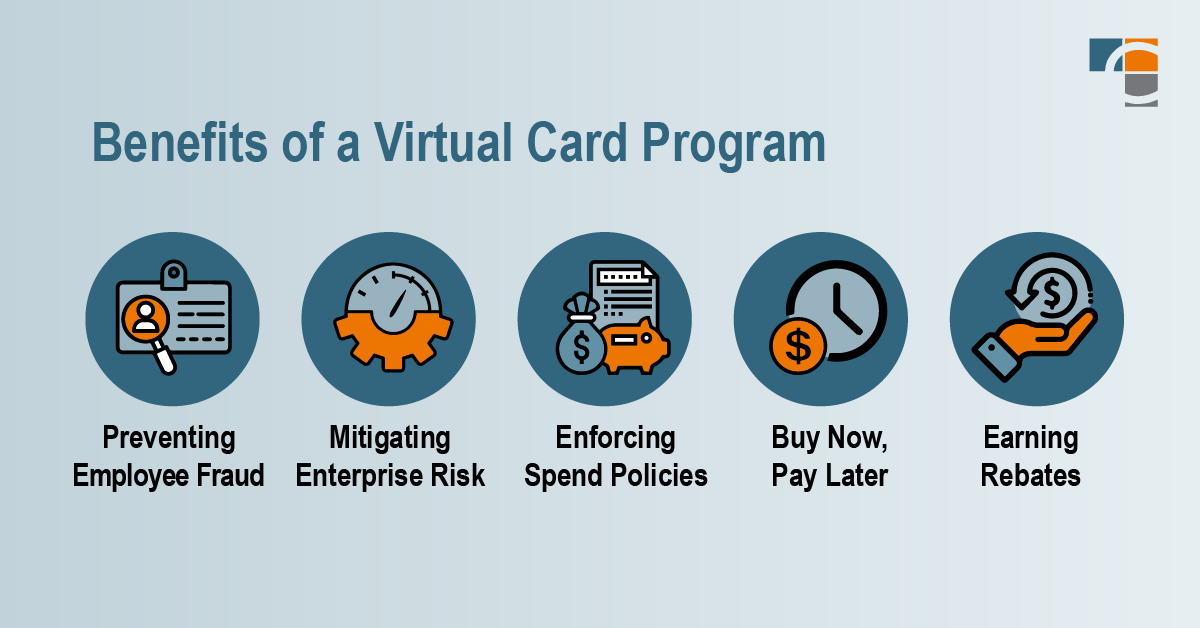 Use Cases for Virtual Card
How exactly can virtual cards work within the Procure-to-Pay (P2P) ecosystem to drive value?
One-time suppliers: Supplier onboarding is a tedious, time-consuming, and often manual process that involves contacting a supplier for required information to set up a Supplier Record in the ERP and W9 data entry to issue payment. For one-time suppliers, this data is never used again. Virtual cards eliminate the need for this process completely by providing the supplier with one-time virtual card detail without burdening Procurement/AP.
Deposits: Corporate retreats, team events, or employee fringe benefits (e.g., motivational speakers, corporate wellness events) usually require upfront payment. ACH can take several days to settle, which can cause planning delays for the business requester. With a virtual card program embedded in a BSM application, end users request a specific dollar amount on the card. Once approved, this card can be used as a deposit for booking and all subsequent event-related spend.
Travel and trips: Traditionally, employee business travel is expensed post-purchase. With a virtual card program, trips or conferences can be pre-approved so that spend does not exceed the pre-approved amount.
Recurring bills: Companies can pay recurring bills while also winning the affection of their AP team: electricity, phone/internet, telecom, and utility bills need to be paid by the first of the month. Traditionally the AP team manages payments via non-PO invoices or a third-party provider and then allocates payments via a complex, intercompany billing process. When managing these recurring bills with a virtual card, coding is set on an annual or monthly cadence and allocated automatically on charge arrival.
5 Benefits of Virtual Card
Prevent employee fraud: According to a recent study by Forbes, "Expense reimbursement fraud comprises 17% of all business fraud in this country, costing U.S. businesses billions of dollars per year. That's real money and, for large corporations, could translate to millions in losses each year"
Limit enterprise risk: With virtual cards, companies don't have to worry about their corporate card information ending up in the wrong hands. Virtual cards generate a unique 16-digit number, expiration date, and CVV that inactivates after the approved value is charged by the vendor.
Enforce spend and purchasing policy compliance: By pre-setting card limits, virtual cards ensure that the card is not over-charged by the supplier or employee. Gone are the days of "blank check" cards. With traditional credit cards, the audit team is unaware of the spend until after it occurs. With virtual cards issued via a BSM application, the card is not issued until the spend is approved.
Free up cash flow and bring on those savings: Virtual cards allow a "buy now, pay later" policy, increasing Days Payable Outstanding (DPO).
Rebates: Earning virtual card rebates empowers departments to become revenue-generating centers rather than just cost centers.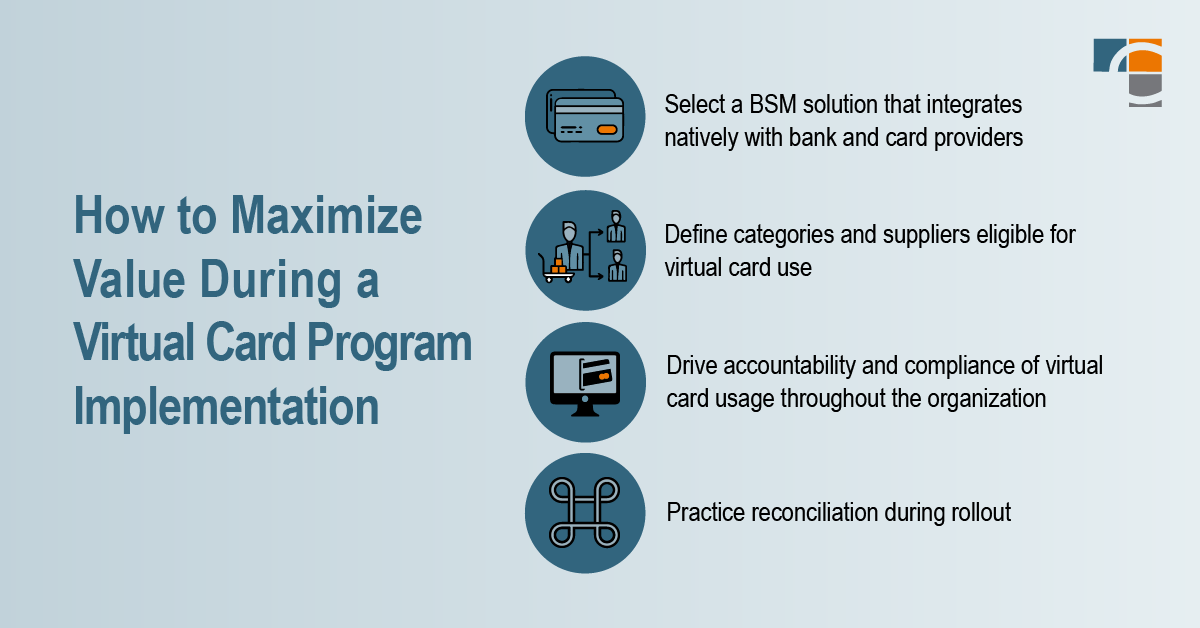 Keys to Implement a Successful Virtual Card Program
The first step to establishing a Virtual Card program is implementing technology (e.g., a BSM solution) and an agreement with a preferred bank. To maximize value:
Select a BSM application, like Coupa, that integrates natively with bank and card providers. End users are more likely to adopt a simple purchasing process. Applications like Coupa make this easy because all spend types originate within the application. A virtual card program is great, but if users need to originate cards via a challenging process outside of the normal procurement process, adoption will remain low.
Define categories and suppliers eligible for virtual card use. Spend analysis is a great place to start. Not all suppliers accept credit card payments, so the spend analysis should target categories eligible for card use. Most banks provide a list of all suppliers that accept their credit cards.
Follow-up with actors not using virtual cards to drive accountability and compliance. Leading BSM applications like Coupa make it easy to display reports showing non-compliant categories and suppliers. Monthly reporting should influence end-user follow-up to drive procurement policy compliance, including virtual card use where prescribed by the policy.
Practice reconciliation during the roll-out. Applications like Coupa integrate bank statements directly into the system to reconcile monthly posted charges against monthly bank statements. Practicing reconciliation prior to roll-out ensures team readiness when the first statement is posted.
To capitalize on the benefits of a virtual card program implementation, contact CrossCountry Consulting.