Spend analytics is the process of collecting, cleansing, classifying, and analyzing spend data. It brings together purchasing-related data and turns it into immediate, budget-saving opportunities. It also provides visibility into an organization's purchasing trends, offering useful insights on improvements to the end-to-end procurement process.
Typical procurement improvements delivered via Spend Analytics include:
Gaining insights into opportunities for strategic sourcing to lower costs.
Ability to negotiate discounts based on volume and supplier performance.
Improved oversight of supply chain processes to drive compliance.
A reduction in supplier risk.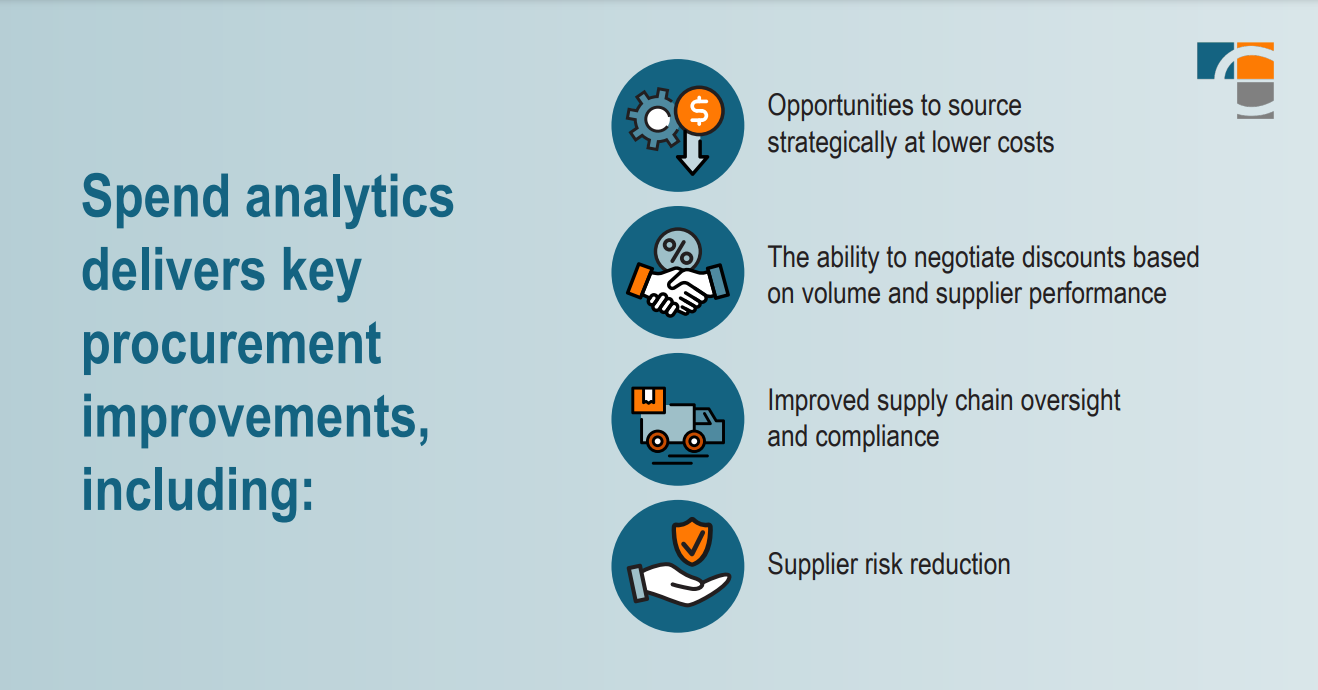 How Can Spend Analytics Support Procurement?
Spend analytics optimizes organizations' procurement performance by integrating information from sourcing data, cleaning it for accuracy, and categorizing it at an item level. Cost savings are a common goal for this process.
Most organizations are increasing the time spent analyzing the process by using analytics software to understand their spending patterns better, identify future savings opportunities, and increase Procure-to-Pay efficiency.
Spend analytics software with reliable data and deep classifications can empower organizations to make better, more actionable decisions. Stakeholders involved with or impacted by advanced spend analytics typically include:
Business end users and budget owners.
Operational managers.
Procurement professionals.
C-level management.
Financial Planning and Analysis (FP&A) professionals.
Steps to Successfully Implementing a Spend Analytics Strategy
Retrieve procurement data.
Validate completeness and accuracy of data.
Cleanse data and normalize suppliers.
Organize data by category into a deep, standardized taxonomy.
Enrich data with metrics and benchmarks.
Use an analytics tool to evaluate data and generate instant insights and visibility.
Identify savings opportunities, process efficiencies, and contract creation or renegotiation options.
Business spend management (BSM) applications like Coupa enforce correct data entry at the time of request, which drives data compliance and standard spend taxonomy throughout the procurement process to Purchase Order and Invoice.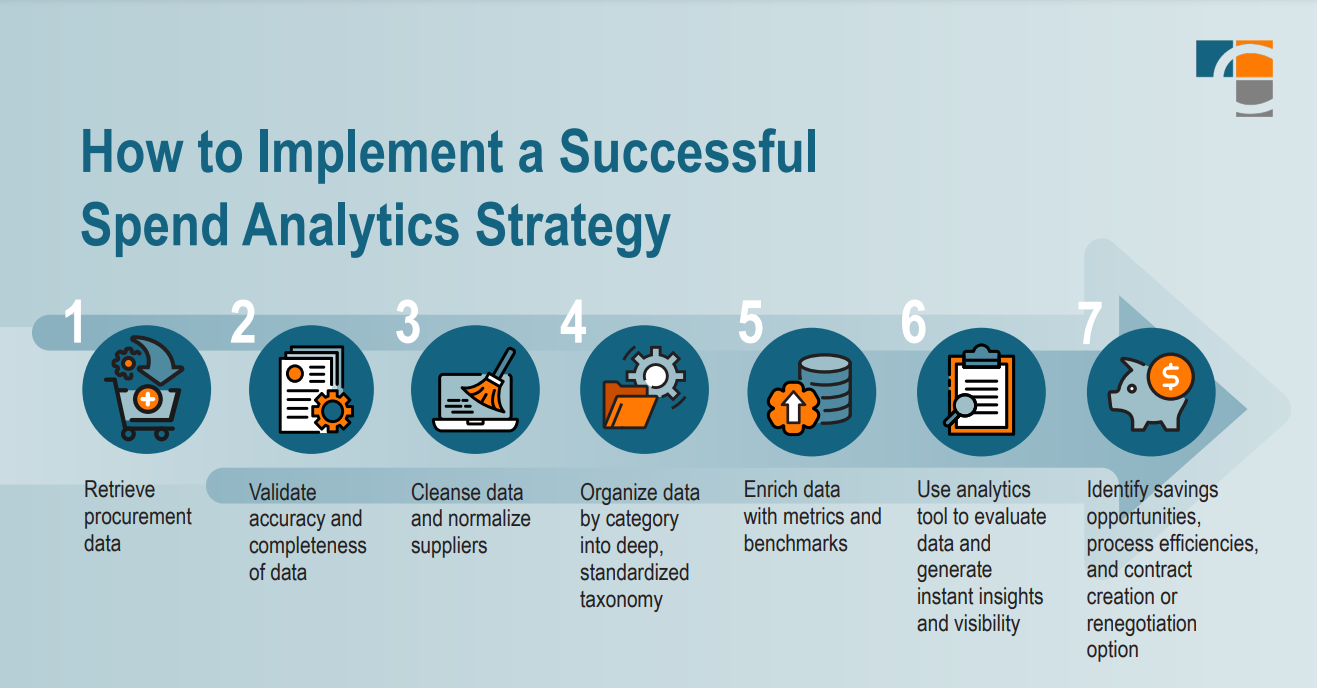 Modern Spend Analytics Software
Purchasing patterns are easier to see on dashboards, charts, and tables. Often these are built as static presentations or spreadsheets.
When done manually or with outdated tools, the data preparation process can take months, limiting the frequency of use.
As opposed to legacy office applications such as PowerPoint or Excel, analytics tools provide a variety of dynamic visualizations that allow data exploration through filters and drilldowns. By using an analytics platform, such as Coupa, data cleansing and categorization time dramatically decreases, while data accuracy increases.
SaaS procurement analytics can also provide analysis solutions that automatically identify common cost-saving strategies, such as vendor consolidation, volume discounts, and purchase price variance.
One way to segment procurement data is by procurement category. Category-specific data allows category managers to use their expertise for cost reduction, supplier consolidation, and contract coverage. Additional ways to demonstrate procurement data include budget segment (Department, Location, Region) or by Supplier.
As companies make the switch, spend analytics is moving from a yearly check to a quarterly or monthly review. As procurement analysts, business leaders, and management apply actionable insights, it can become an everyday tool to understand the past and help predict future spending and savings.
For expert spend analytics implementation and advisory support, contact CrossCountry Consulting.