As CFOs look to trim costs – primarily by decreasing headcount – in anticipation of further recessionary pressures, overhead in the finance back office is under a microscope.
But reductions in key finance positions can generate a backlog of unprocessed and unpaid invoices with reverberating effects across all areas of the business and vendor ecosystem. So, while labor is "streamlined," accounts payable (AP) efficiency erodes.
To proactively address this type of scenario – along with many others – future-ready firms are pursuing automation initiatives, with a transformative business spend management (BSM) application being a productive, high-value entry point for many organizations. BSM platforms like Coupa aid AP automation by digitizing the invoice process and reducing cycle times between receiving invoices and approving them for payment.
Benefits of Automated Invoice Processing
Invoice automation benefits the finance back office in direct, tangible ways, as evidenced by greater throughput and more uptime for human capital to focus on higher-value activities.
At its core, automated invoices generate:
Savings from payment discounts.
Tighter cash flow controls.
Reduced workload for the AP department.
Automated general ledger (GL) coding from purchase orders.
Organizational efficiencies through AP workload reductions.
Increased rate of electronic invoices received.
Reduced invoice creation and approval cycle time.
Increased Earnings Before Interest, Taxes, Depreciation, and Amortization (EBITDA).
Below is an example invoice dashboard, which is a starting point for visualizing and realizing some of the above benefits: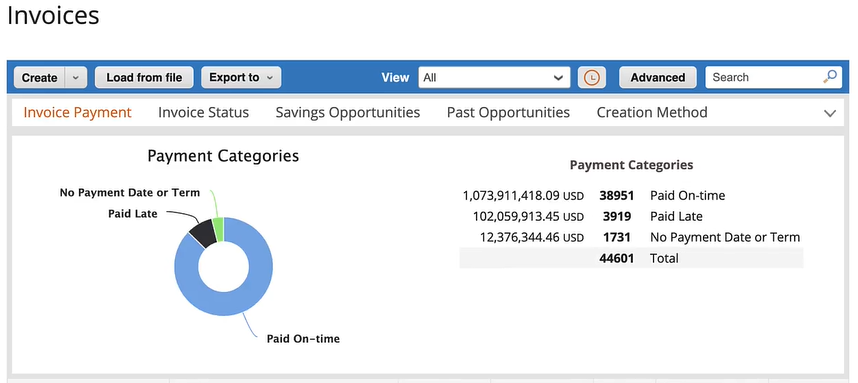 While modern finance functions no longer handle paper invoices and manually validate purchase orders, there's still room for continuous optimization, primarily through a technology stack that accelerates additional automation over time. Some of these supporting technologies include:
Optical Character Recognition (OCR), which converts images or text into a machine-readable format.
Artificial Intelligence (AI) to automate invoice matching and approval and reduce the need for manual data entry.
Merging of invoice processing and payment platforms to enhance reporting capabilities and transaction tracking.
Integrations to ERP to automate accounting and reduce duplicative work.
The sum of these advancements is AP efficiency that sets a high standard of performance within the finance function while enabling the organization to ingest, understand, and act on data in a systematic, forward-looking way.
The Power of BSM Process Automation
The adoption of a BSM platform in the pursuit of ongoing AP process efficiency is a useful, integrated model for leading organizations. BSM tools provide a suite of adjacent process efficiencies throughout tax, treasury, contracts, planning, and more – further arming the AP function with opportunities to make an impact outside of invoicing alone.
Coupa, for example, contains modules for compliance, spend management, and strategic sourcing – to name a few – in addition to its core AP automation capability. Through automated invoicing channels, free web portals for supplier invoicing, AI-powered PDF processing, and eliminating invoices entirely through virtual cards, Coupa delivers a sophisticated approach to cost-effectively running an AP function, as seen below:
cXML integration enables businesses to exchange electronic invoices with their suppliers quickly and easily. By automating the exchange of invoices through direct cXML integration, businesses can reduce the time and effort required for manual invoice processing, improve accuracy, and reduce the risk of errors and fraud.
Free invoicing portals such as the Coupa Supplier Portal (CSP) and Coupa Supplier Actionable Notifications (SAN) allow suppliers to easily submit their invoices online, eliminating the need for manual data entry and reducing the risk of errors. This reduces the burden of entering invoices on the AP team, improving invoice processing time. The supplier is able to view invoices and their current status, which allows transparency and leads to improved supplier communications.
AI-powered PDF processing tools like Coupa InvoiceSmash are another valuable feature of BSM Platforms. These tools use AI and machine learning (ML) algorithms to learn and understand PDF supplier invoices, enabling them to extract relevant data accurately and efficiently. InvoiceSmash can also detect and flag any anomalies in the invoice data, helping to identify potential errors and fraudulent activities.
Virtual cards are another trending feature of BSM Platforms, which are replacing traditional paper invoices. Virtual cards are essentially digital payment cards that can be used to pay suppliers quickly and securely, eliminating the need for paper invoices and manual payment processing entirely.
On average, organizations that implement Coupa increase their digital invoicing receive rate to 75% of their vendor base within just six months of going live. As a result, average invoice cycle times decrease drastically to just 10.5 hours.
For expert support implementing AP automation, contact CrossCountry Consulting.