If at first you don't succeed with digital transformation, there's no choice but to try and try again. The pace of change and technological innovation demands forward momentum at all times.
The problem, however, is that organizations are making the same mistakes repeatedly with each new transformation initiative, especially as it pertains to the technology investments that were originally designed to propel organizations into greater digital maturity and agility.
With the global market for enterprise software projected to reach more than $610 billion by 2032 – roughly triple its current size – it's clear that it's more important and cost-effective than ever to get transformation right the first time around or else risk wasting resources in perpetuity.
Finance and IT must get aligned.
Follow the Money: Digital Initiatives in the Pipeline
Today's organizations are prioritizing a range of digital initiatives, with the most common being some form of internal or external enhancement of existing technology, according to a Forrester Consulting survey of 300+ senior finance and IT executives commissioned by CrossCountry Consulting.
More specifically, leaders are primarily seeking to upgrade, replace, or consolidate legacy applications or systems – the top-cited goal for 53% of finance and IT leaders. Adjustments of this kind can be challenging to say the least. Organizations that are generally less digitally mature or that don't have a history of making successful digital transformations will specifically feel the pressure.
See what 300+ Finance and IT executives say about the state of enterprise digital transformation.
New Forrester research commissioned by CrossCountry Consulting
Among the key findings of the survey is that leaders are prioritizing better technology implementations (good) but not necessarily the steps it takes to accomplish that very goal (bad). Organizational silos, operational misalignment, and process ambiguity, among other pitfalls, are often still very much entrenched in today's enterprises – throwing more money at technology without addressing these legacy obstacles may impede progress and render transformation ineffective.
How to Promote Stronger Enterprise Transformation
According to the survey, 64% of respondents expect it will take more than two years to see meaningful results from their digital transformation efforts. 53% haven't yet seen the progress they originally hoped for, either. In both cases, finance leaders appear to be even more wary and critical of slow progress relative to IT.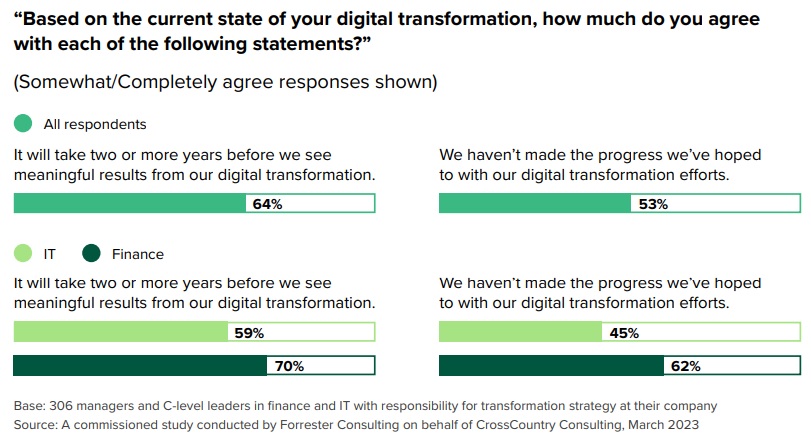 With the fruits of their labor not materializing any time soon (if at all), a re-calibration of focus may be warranted. To avoid recreating poor habits of the past, there are several key changes organizations can make.
Forge Deeper, Strategic Partnerships Across Functions
Working across the aisle with other functional leads, especially those most impacted by an enterprise-wide transformation, is imperative from the start. 95% of respondents believe alignment between finance and IT in particular is important to positive digital transformation outcomes.
Partnership can be achieved in a number of ways, from rolling cross-functional meetings, the establishment of a cross-functional Transformation Management Office (TMO), deliberate cross-pollination and assignment of projects, and more. Ideally, leaders are already working on these partnerships before transformation is even on the agenda: It should be a natural predecessor of transformation that endures before, during, and after any large change event.
That way, time-to-ROI for technology investments is more predictable, streamlined, and manageable.
Increase Visibility to Support Digitization of End-to-End Processes
Cross-functional alignment naturally democratizes data and conversations about shared data technologies, management practices, and applications. This level of visibility unlocks previously unknown or ignored synergies between teams and departments.
45% say visibility encourages skilled workers to engage across teams, while 42% say visibility synchronizes cross-departmental operating models and rhythms.
With a sharper and broader view of the organization's entire process architecture, leaders can better understand what's working and what isn't, what needs more investment and what can be retired. By assessing the full lifecycle of key processes, like Procure-to-Pay, Order-to-Cash, and many more, leaders will find new opportunities to digitize various stages of workflows and even alternate ways to structure teams to better facilitate faster, scalable, and more efficient processes.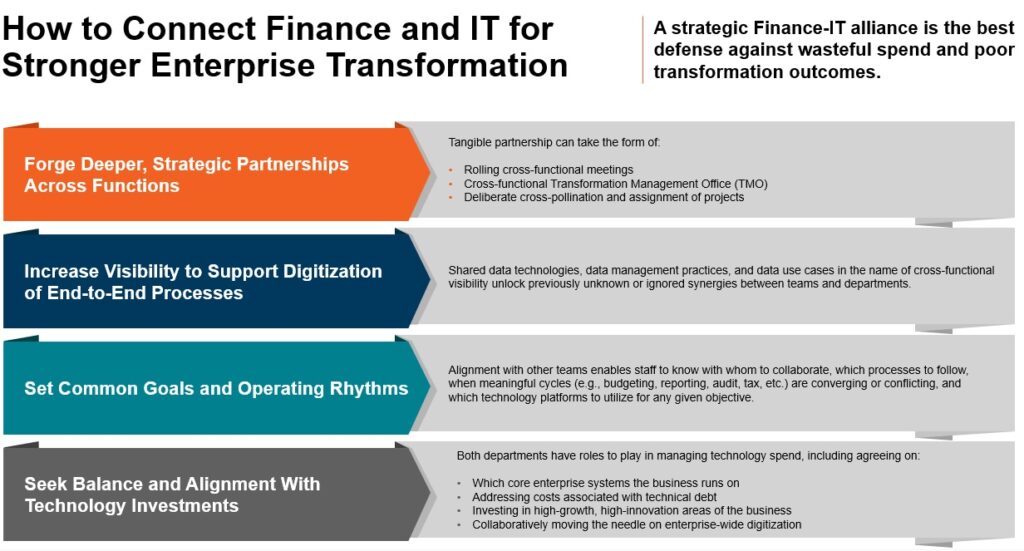 Set Common Goals and Operating Rhythms
As closer alignment with other teams becomes the norm, business units begin operating on the same wavelength. Staff know with whom to collaborate, which processes to follow, when meaningful cycles (e.g., budgeting, reporting, audit, tax, etc.) are converging or conflicting, and which technology platforms to utilize for any given objective.
The resulting harmony makes it easier for staff to float new ideas, build coalitions for key projects, and speak the same language. In the context of making the right kinds of technology investments to help scale the business, this harmony is crucial. Early alignment on technology – thanks to early alignment of staff and processes – makes change management all the more frictionless.
Seek Balance and Alignment With Technology Investments
IT teams are inherently more digitized than finance, and the responsibilities around technology expenditures are variable organization to organization. But both departments have roles to play in managing technology spend, including agreeing on the core enterprise systems the business runs on, addressing costs associated with technical debt, investing in high-growth, high-innovation areas of the business, and otherwise collaboratively moving the needle on enterprise-wide digitization.
So, to advance leaders' top transformation goal – upgrading, replacing, or consolidating legacy applications/systems – take a step back and seek foundational alignment across functions first. A strategic Finance-IT alliance is the best defense against wasteful spend and poor transformation outcomes.
Invest in Program and Change Management
Consider a $3 million enterprise software implementation effort that is expected to take one year. Without an effective governance structure, one year can quickly turn into two – $3 million quickly turns into $4 million. Inadequate planning is the fastest route to change failure.
A strategic, proven implementation partner with expertise in program management, change management, process improvement, and digital transformation can help guide and validate vendor selection and decision-making. They can also ensure all technical requirements are met, progress is made on-time and on-budget, and the full value of digital transformation materializes.
For more expert insights on the state of finance and IT's transformation partnership, download the full study. And to expedite your next transformation, contact CrossCountry Consulting.