As global data collection triples between 2022 and 2025, the organizations positioned to rationalize, secure, manage, and leverage that data across the enterprise can improve digital transformation outcomes. These new wellsprings of data must be made actionable through a holistic data strategy that aligns the interests, investments, and ideologies of two of the most powerful executives: the CFO and CIO.
This desired synchronicity will never organically develop, however. The partnership must be mission-driven, driver-based, and thoughtfully nurtured to ensure the enterprise data strategy is anchored in transformative practices and oriented toward long-term value creation in the form of advanced analytics, efficient reporting, and continuous cost management across the organization.
So how can this relationship be made more effective?
It starts with understanding the interdependencies and opportunities inherent in current data management practices.
Dual Roles in a Common Purpose
Though the CIO may in some cases report to the CFO and in other instances to the CEO or COO, the CIO and CFO organizations are unique (and often siloed) enough to warrant closer collaboration and agreement on priorities coming out of the C-suite. Overlapping, unclear, or inchoate responsibilities for data management are case in point.
CFOs can leverage the potential applications of data and technology, such as cloud-based ERP, advanced analytics, and cybersecurity, while CIOs must consider market dynamics, operational requirements, and employee expectations. By fostering collaboration between the CIO and CFO and ensuring alignment in decision-making processes, techniques employed, analytical engines created, and information delivery tools used, both executives can significantly enhance their impact within the organization.
To jointly work toward corporate agility and efficiency, CFOs and CIOs should align on these data technologies:
| Data Technologies | Context for Alignment |
| --- | --- |
| Data Governance | Data governance involves the creation and enforcement of policies, standards, and processes to ensure the proper management and use of data across an organization. It includes data quality management, data security, and compliance with regulatory requirements. |
| Reporting Tools | Advanced analytics tools that leverage existing data to better predict future performance and generate what-if scenarios when making C-suite-level strategic decisions enhance reporting processes. |
| Cloud Services | For business continuity during disasters, minimized overhead, reduced property expenses, and greater uptime, cloud services are essential to modern firms. They're also the backbone of data and analytics innovation. |
| Data Warehousing | Data warehousing is a technology that involves the collection, storage, and management of large amounts of structured data from various sources. It provides a centralized repository for data analysis and reporting purposes. |
| Master Data Management (MDM) | MDM is a technology that focuses on creating and managing a single, authoritative source of master data, such as customer data, product data, or supplier data. It ensures data consistency, accuracy, and integrity across multiple systems and applications. |
| Data Integration | Data integration technologies enable the extraction, transformation, and loading (ETL) of data from various sources into a unified and consistent format. It helps in combining data from different systems or databases for analysis and reporting. |
| Data Virtualization | Data virtualization allows users to access and manipulate data from multiple sources without the need for physical data movement or consolidation. It provides a virtual layer that abstracts the underlying data sources, allowing for real-time data access and integration. |
| Data Quality Management | Data quality management tools and techniques help in assessing, improving, and maintaining the quality of data. They involve processes for data cleansing, deduplication, validation, and enrichment to ensure data accuracy and reliability. |
| Data Archiving | Data archiving technologies involve the long-term storage and management of historical or infrequently accessed data. Archiving helps in reducing storage costs, optimizing database performance, and complying with data retention policies. |
The CFO's knowledge of company financial and strategic objectives and the CIO's knowledge of systems, tools, and processes are a critical confluence. Getting data management right sets the course for future decisions, employee experience, financial health, competitive advantage, and technology adaptability.
This is how impactful the CFO-CIO relationship is. Their collaboration propels the enterprise.
How CFOs and CIOs Can Empower Each Other
The channels and responsibilities through which CFOs and CIOs cross over will expand as these leaders continue to take on the roles of digital stewards for the enterprise. Recognizing and optimizing these touchpoints can streamline process workflows, clarify critical duties, and open the door for even greater partnership on key opportunities in the future.
Especially at organizations in which technology is a critical component to business operations, CFO and CIO roles cross over in several areas, as seen below: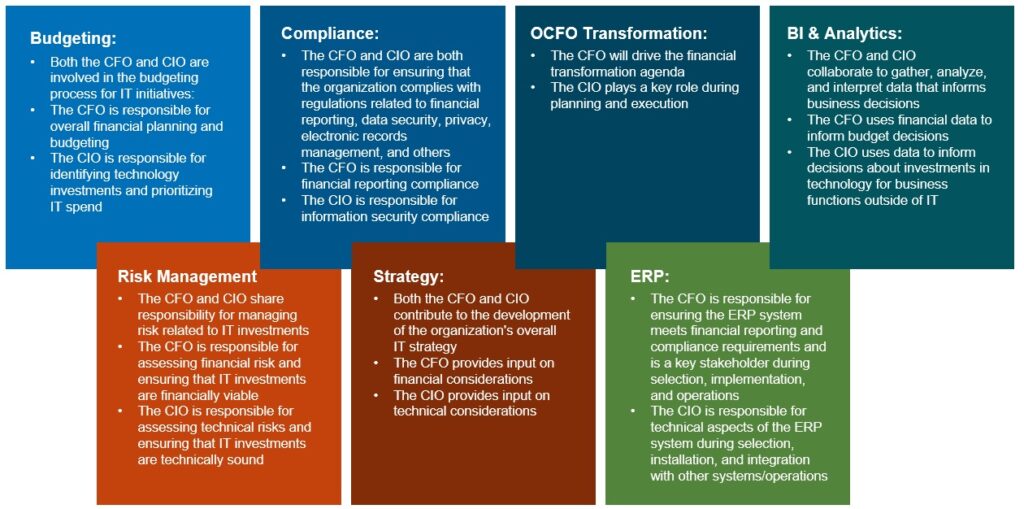 CFO Priorities and Perspective
While not necessarily rooted in the functionality or day-to-day operations of the company's technology stack, the CFO is still a power user for the purposes of generating data-backed insights for planning, forecasting, and reporting processes. The CFO ensures the technology architecture of the firm doesn't have negative financial implications (high operating costs, low utilization, compliance or regulatory risks, etc.).
Technology platforms must be attuned to the firm's risk tolerance and future financial fitness, making every system implementation not just an investment in IT but in the whole firm.
CIO Priorities and Perspective
The CIO, on the other hand, is responsible for evaluating, selecting, and implementing the systems and processes that support data generation, governance, analytics, and reporting. These systems and processes provide the foundation for CFOs to make strategic decisions.
With expertise in technology risks and innovation, the CIO has the background to implement enterprise-wide controls, wisely deploy optimal technology, and pursue the latest tools on the market, such as automation, digitization, artificial intelligence (AI), machine learning (ML), business intelligence (BI), and more.
How the CFO Can Help the CIO
CFO and CIO organizations can support each other in numerous meaningful ways in the spirit of common values and corporate vision. Additionally, the business strategy will have a direct impact on the financial strategy and technology strategy, implicating both parties from the top down. Collaboration between these parties, too, can foster an elevated business strategy for the entire organization, more of a bottom-up influence.
CFO overtures to the CIO can include efforts such as:
Articulating business priorities, organizational goals, and value-drivers so the CIO has a better sense of what and how the CFO evaluates and approves recommended technologies.
Giving the CIO a voice in executive strategy meetings, familiarizing other C-suite peers with potential opportunities with technology, and formalizing a process by which the CIO can contribute more meaningfully to corporate objectives beyond IT investments alone.
Aligning the CIO to OCFO departmental priorities, costs, challenges, and opportunities to help them tailor their proposals and future research on beneficial technologies to the right audience and objectives.
How the CIO Can Help the CFO
The CIO can similarly support the CFO by:
Developing a data strategy that aligns with the organization's overall business goals and growth objectives that are driven and/or supported by the OCFO.
Selecting and implementing the right data analytics tools and solutions.
Creating and managing data governance policies and procedures.
Developing and delivering data-driven reports and visualizations.
It's clear that an elevated, consistent CFO-CIO partnership is optimal for maintaining an efficient, agile organization capable of leading its industry from the front. As their domains evolve and synchronize further, CFOs and CIOs will find themselves making collaborative, forward-looking decisions on behalf of the business at large, resulting in lasting value otherwise not achievable with legacy silos and platforms.
Enabling Change
Beginning with a current-state assessment that outlines the priorities of both parties, CrossCountry Consulting enhances the CFO-CIO alliance. Through strengthened partnership, the CFO and CIO organizations are able to deliver strategic recommendations to the business and share a common roadmap for executing transformation that's measurable, manageable, and meaningful.
For leading data management practices and transformation impact, contact CrossCountry Consulting.