As one of the primary architects and agents of digital transformation across today's enterprises, the finance function has a two-step charter:
Internally transform the finance department by acting as the tip of the spear for the rest of the business. This means experimenting, vetting, and implementing leading analytics, automation, and artificial intelligence (AI) platforms that remake day-to-day finance activities and upskilling staff to perform higher-value tasks that meaningfully contribute to the strategic vision of the company.
Take the lessons learned from re-ordering its own department outward to other business functions. Finance must serve as a trailblazer and shepherd the holistic adoption of tools and processes throughout the enterprise with the goal of greater digital maturity and agility.
Collectively, this requires finance to lead from the front. It must incubate successful practices and technologies on behalf of the business, then compound those wins through strategic cross-functional deployments and integrations.
Easier said than done.
Step 1: Internal Transformation and Innovation
In a Forrester Consulting survey of 300+ senior finance and IT executives commissioned by CrossCountry Consulting, 43% of respondents indicated the CFO is the driver of digital transformation, more than triple the next stakeholder.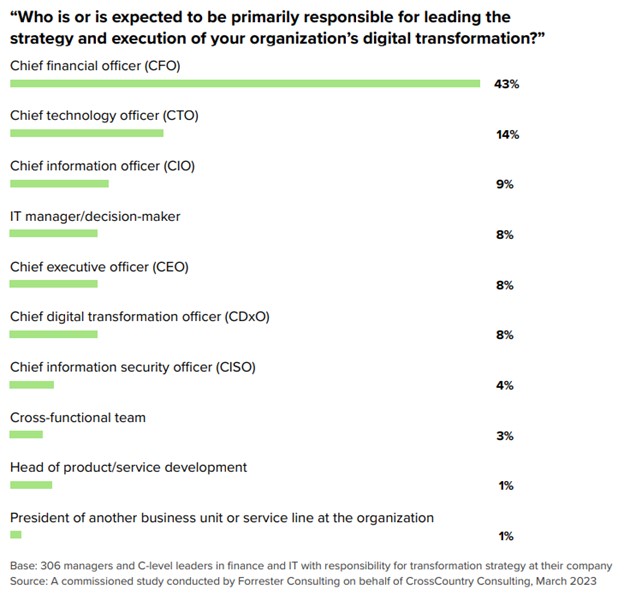 With this responsibility, the first component to leading enterprise digital transformation is for finance to advance digital progress within its own house. Broadly speaking, that refers to:
See what 300+ Finance and IT executives say about the state of enterprise digital transformation.
New Forrester research commissioned by CrossCountry Consulting
These actions generate tangible benefits to finance internally, thus validating finance's leadership in piloting new ideas. But they also contribute significantly to the business, again substantiating the direct line between finance transformation and enterprise transformation. This allows finance to have an outsized impact on the business, including in areas not traditionally in its scope, such as:
Possessing a trove of financial and operational data, the finance function has the capability of seeing under the hood and seeing into the future. Finance's current digital maturity is a benchmark against which other departments can measure themselves and, over time, advance in unison.
Step 2: Impactful Collaboration and Vision
Even for leading finance teams, it is not enough to simply knock on the door of the CRO, CIO, CTO, COO, or other key executives and expect immediate, productive partnership in enterprise digital transformation. These departments may have their own agendas, systems architectures, employee cultures, and understanding of their place in the company hierarchy.
Finance must intentionally and strategically build a business case for collaboration with these teams, assemble a coalition for change, and align the momentum of this effort to the five-year strategy. Doing so empowers the organization to: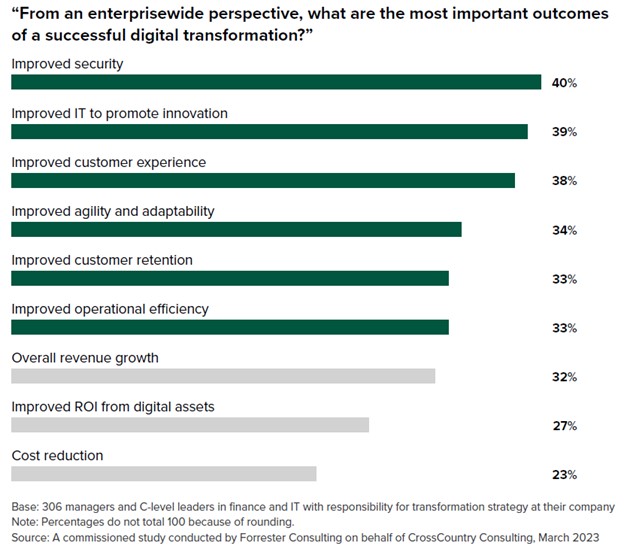 Finance's growing charter is more critical than ever. Successfully moving the organization toward a digitally mature future state will take years, but there are key incremental wins along the way that can pile up quickly and deliver meaningful results. The best time to get started is right now.
For more expert insights on the state of finance and IT's transformation partnership, download the full study. And to expedite your next transformation, contact CrossCountry Consulting.