Imagine a company without the typical corporate functions: Finance & Accounting, Supply Chain, IT, and HR.
The organizational structure is instead a combination of high-performing cross-functional teams focused on business outcomes and organized around end-to-end processes (e.g., Order to Cash).
These teams are supported by centralized hubs (COEs) that provide spoke resources and tools needed to be more efficient and effective.
This progression won't be easy for most organizations. But it's necessary, and it's the future.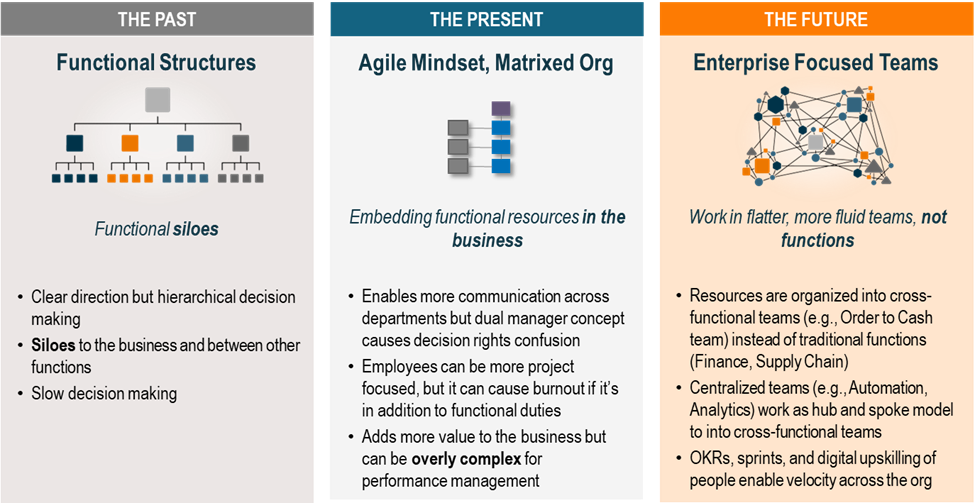 Adaptable Structures Are a Necessity in an Increasingly Complex World
The world is changing rapidly – it's faster, more connected, and more complicated. Customers have more power and more access to information. One viral tweet can upend an entire company's reputation.
Companies must be able to adapt quickly to meet the needs of employees, customers, and investors. Adaptability requires an empowered organization in which decisions are made at lower levels – where the information and knowledge sit.
The Team of Teams Model: A Backstory
In the early 2000s, the U.S. military pioneered new models for connecting military branches that weren't reliant on traditional top-down silos. Known as the "Team of Teams" model, organizations within the military could operate independently and interdependently to take fit-for-purpose action quickly. Command structures were flatter, and decisions could be made on the ground by those closest to the activity.
Other popular literature focuses on similar concepts, as seen below.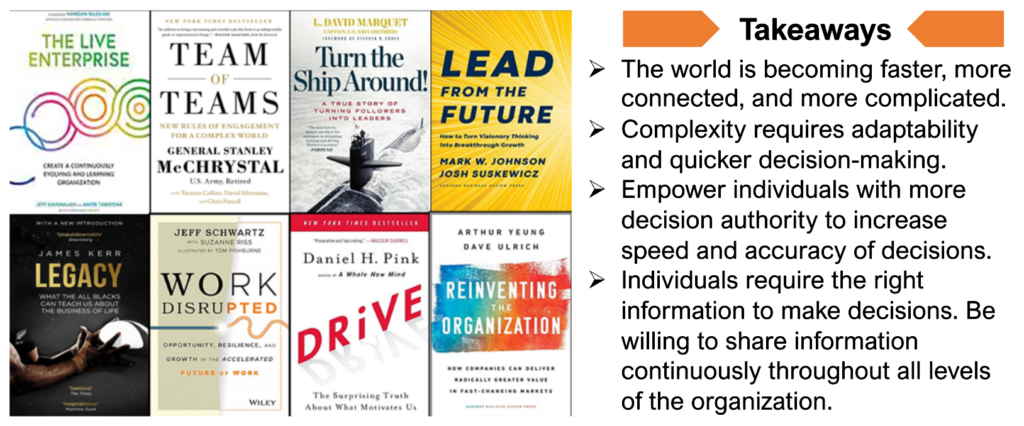 The overall premise of this new type of "ideology" is that disruption forces teams to pivot autonomously and act confidently with the information they have. Or else progress is not possible.
Rethinking Corporate Function Structures: Organizing Around End-to-End Teams
Many companies have a connected, end-to-end mindset with corporate processes and technology. However, most organizational structures still haven't evolved from traditional functional and matrix structures. The resulting silos limit the ability to adapt quickly in a crisis.
As seen below, when key activities are conducted top-down, innovation can't occur between teams. In the future, however, a flatter, more flexible process architecture enables greater collaboration and efficiencies to organically rise to the surface. Small teams (and even individual staff) will be capable of solving problems between, among, and across different activities without red tape.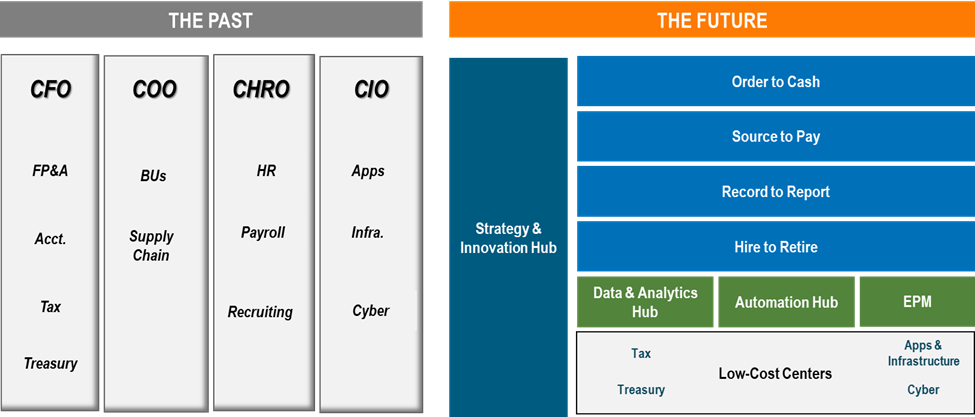 Future corporate functional models should have the following characteristics:
1. Cross-Functional Teams Centered Around End-to-End Processes Rather Than Traditional Functions
The traditional labels of Finance & Accounting, Supply Chain, HR, and IT will be a thing of the past. Instead of those traditional functions, we'll see interconnected teams such as Order to Cash, Source to Pay, Record to Report, and Hire to Retire.
Each of these teams will have a team lead and could have employees with different backgrounds and capabilities – e.g., FP&A, App Development, Procurement, and Sourcing.
2. Flatter and More Individual Decision Authority: A Leader-Leader Model
Captain L. David Marquet, commander of the USS Santa Fe nuclear submarine and author of "Turn the Ship Around," overhauled the traditional Leader-Follower structure in place of a Leader-Leader model in which decisions moved further down the chain of command to where information sat.
The results were incredible. The USS Santa Fe transformed from one of the lowest to highest performing submarines in one year.
The U.S. Military in Iraq worried not only about delegating decision-making but about making quick decisions without deep discussion and analysis. However, they found that speed improved decision-making – it was typically a 90% answer today versus a 70% answer tomorrow.
How does this happen?
Individuals with authority will become more invested in outcomes. But individuals will still need to be knowledgeable and have the right insights to make good decisions.
3. Centralized Hubs That Enable Teams to Be More Effective and Make Better Decisions
People will ask, "How do you set direction, maintain standards, assure quality, and manage performance in this type of model? And where do CFOs, CIOs, and other leaders sit?"
There will be centralized hubs that work like a hub-and-spoke model and provide the necessary resources to teams:
4. Adequate Low-Cost Support in Key Areas to Balance Cost
Terms like outsourcing, offshoring, and low-cost centers can scare people away and are often associated with lower service levels and quality.
However, modern low-cost centers are staffed with more experienced labor than in the past decade, as the focus of outsourcing shifted away from labor arbitrage and toward tech-enabled outcomes. The shift toward managed services providers will accelerate. That means there will be plenty of opportunities to place some functions such as Payroll, Tax, and Treasury – that are harder to automate – in low-cost centers, whether onshore or offshore.
Momentum for cross-functional models is already here, and the leaders willing to experiment with structural change can enable forward progress ahead of competitors – beginning with the approaches provided here.
To build a high-performing functional structure at your organization, contact CrossCountry Consulting.