Overview
Entrata, a provider of cloud-based property management software that brings all property management websites, accounting, utilities, and other information into one unified platform, was rapidly expanding and looking to establish controls, compliance, and spend visibility around purchasing. Lacking a formal procurement function, Entrata set out on a course to make strategic hires, stand up a procurement function, and implement Coupa in record time.
Prior to Coupa, approvals and purchases at Entrata were recorded via email. There was no easy way to create purchase orders or electronically transmit to vendors. Jeremy Parkin, onboarded as Entrata's new Procurement Director and founding member of the procurement organization, performed an assessment of several spend management applications and ultimately selected Coupa for Contracts, Procurement, Invoices, and Payments. Coupa's seamless integration to Entrata's ERP made the decision simple. This project would occur simultaneously with Parkin establishing new policies and processes in support of a new, enduring procurement function.
Parkin, in collaboration with Entrata CFO Mark Hansen and Purchasing Manager Chris Smith, partnered with CrossCountry Consulting on a two-phased Coupa implementation and Amazon Business punchout to further centralize, automate, and scale procurement at Entrata with key focuses on people, process, and technology.
Today, Entrata uses Coupa as the centralized intake point for all procurement, expense, travel, and invoice activity, supporting 250+ buyers globally.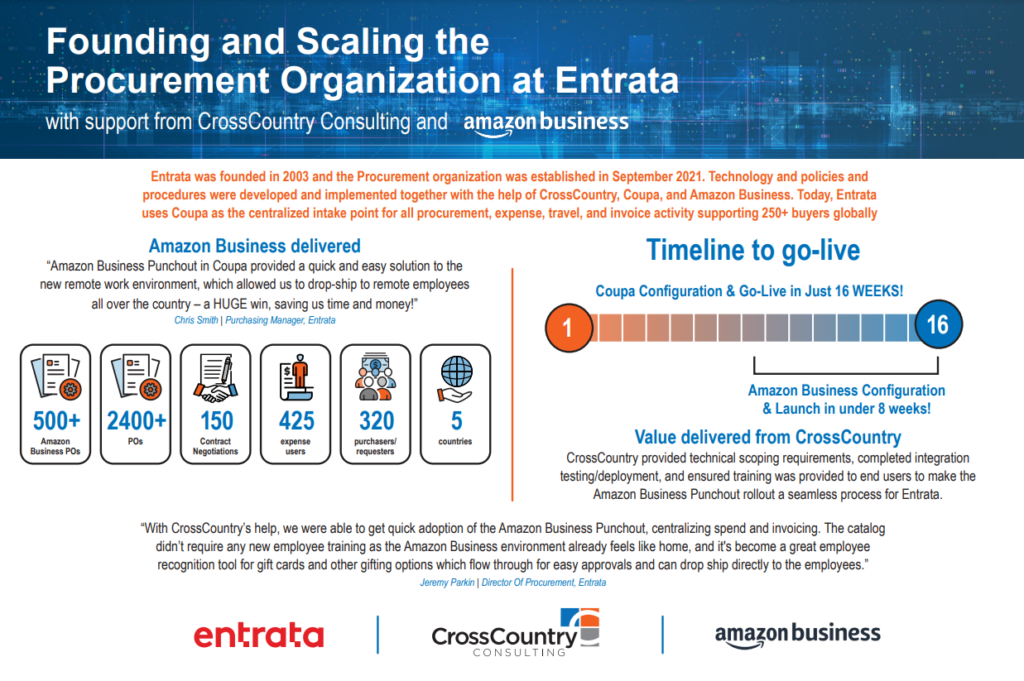 How We Helped
CrossCountry Consulting led the 16-week Coupa implementation of Procurement, Expense, and Payments in Phase I. Coupa Travel was implemented later in Phase II.
There were three goals to the mission:
Centralized procurement intake.
Complete compliance, controls, and visibility into spend.
Coupa-Amazon Business alignment.
To create a point of origin for all procurement activity, CrossCountry centralized the spend management process, ensuring disparate departments weren't in violation of new purchasing policies and were following the same standardized processes. New supplier requests and payments were all routed through Coupa. As Smith noted, "Coupa helped to quickly centralize the spend management processes for a decentralized organization that previously contained departments working independently."
As CrossCountry introduced the Coupa platform, the Entrata procurement team used this opportunity to train end users on the new system and purchasing policies for ultimate user experience and compliance.
As part of the Coupa implementation, the Amazon Business punchout was enabled in 8 weeks, including full invoice automation via Amazon Business cxml integration with Coupa. Entrata consolidated six different Amazon Business accounts, all orders were now centralized via Coupa, and the application supported full approval via the Coupa mobile app.
"The Coupa mobile wallet is so easy to use and makes attaching and assigning receipts for submission a breeze!" said Smith. "We needed a solution with a simple, familiar user interface to encourage rapid adoption, and Coupa is it. It had a familiar online shopping experience."
Results
Speaking on the success and collaboration between teams, Parkin stated, "With CrossCountry's help, we were able to gain quick adoption of the Amazon Business punchout, centralizing spend and invoicing. The catalog didn't require new employee training, as the Amazon Business environment already feels like home, and it's become a great employee recognition tool for gift cards and other gifting options, which flow through for easy approvals and can drop ship directly to the employees."
Smith concurred, noting, "The Amazon punchout in Coupa provided a quick and easy solution to the new remote work environment, which allowed us to drop ship to remote employees all over the country. It was a huge win, saving us time and money!"
In total, the Amazon Business Punchout enabled:
2400+ purchase orders (500+ through Amazon Business specifically) across 5 countries.
150 contract negotiations.
425 expense users.
320 purchasers and requesters.
The two-phased Coupa implementation was completed in just 16 weeks from configuration to go-live, serving as the core foundation of the Entrata procurement organization for years to come.
Today, Entrata continues to expand its usage of Coupa, including introducing the procurement process and the BSM application globally. Coupa is now the primary travel booking tool for all U.S. users, and new regions are being added to the procurement, invoice, and expense platform in phases.
Entrata serves as an excellent example of the power of partnership. The procurement organization and Coupa implementation launched in parallel, highlighting the impact of a coordinated BSM technology and process architecture.