Use Case
Crusoe Energy, a natural gas flaring mitigation provider to oil and gas companies, sought a Procure-to-Pay (P2P) software solution for a more efficient, policy-compliant, and transparent procurement process. Coupa was chosen as the procurement application for its familiar end-user experience, mobile capabilities, and easy integrations via open API.
Complex implementation requirements coupled with a tight deadline required Crusoe Energy to seek assistance from a strategic Coupa implementation partner. CrossCountry Consulting, a Coupa partner since 2014, was selected based on their P2P expertise, extensive technical knowledge, and established relationship with Amazon Business (a supplier Crusoe Energy planned to integrate with).
Further, CrossCountry led an Amazon Business integration, providing Crusoe with a wide selection of products, greater visibility into spend, and an optimized requisition to payment processing.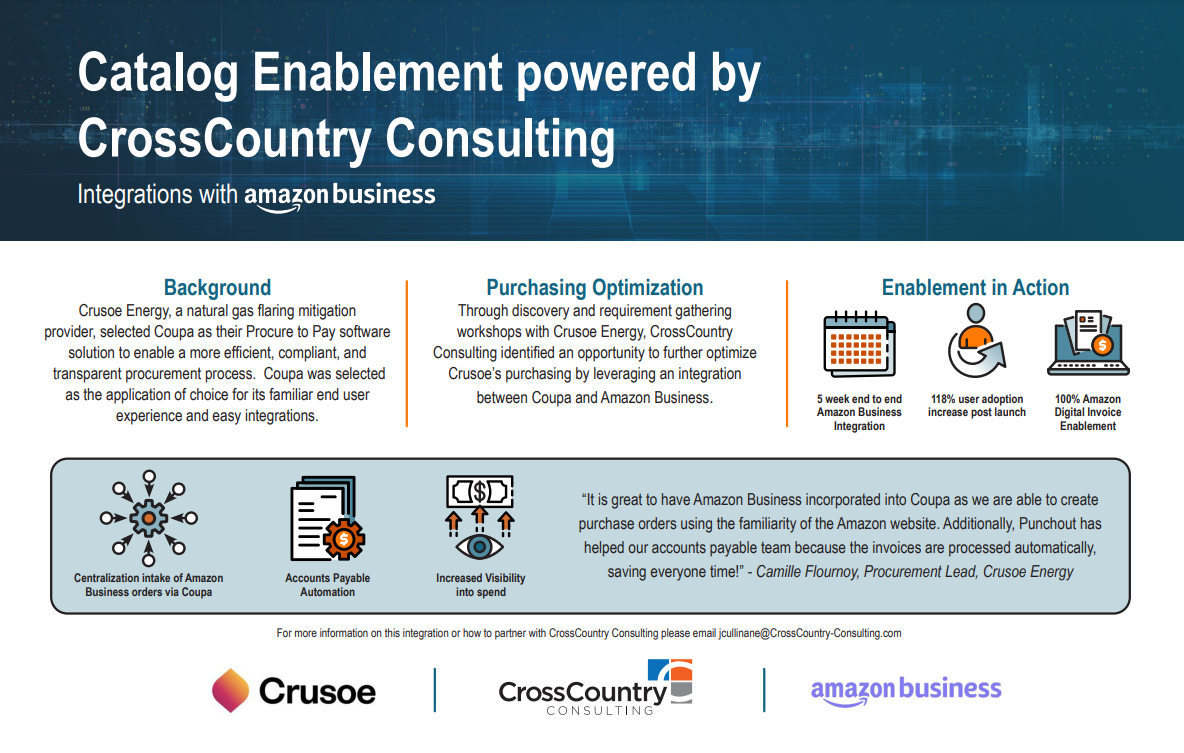 Our Approach
Prior to Crusoe's engagement with CrossCountry, purchasing Amazon Business products happened directly via the Amazon Business website. With goals of creating streamlined processes, increasing visibility, and automating PO to invoice, CrossCountry helped Crusoe integrate Coupa directly with the Amazon Business catalog. This not only supported the above goals but also enhanced Crusoe's user adoption of Amazon Business and provided a seamless, frustration-free procurement process adhering to the organization's internal policies and controls.
CrossCountry's procurement transformation team coordinated directly with Amazon Business around the scope of the project and cxml requirements for both invoices and credit memos. The direct collaboration between CrossCountry and Amazon Business allowed Crusoe to complete the standard Amazon Business implementation timeline in just five weeks. This included defining scope and requirements, setting up the technical integrations in Coupa and Amazon Business, end-to-end testing, configuration, and go-live launch activities. This workstream provided valuable insight into the optimal engineering of the Amazon Business and Coupa integration and enabled CrossCountry to make continued recommendations and optimizations throughout the build.
By combining Amazon Business and Coupa frameworks into a holistic solution, Crusoe gained numerous cross-functional improvements, including:
Efficiency and Automation
Accounts Payable automation: Digital invoice creation via cxml. Touchless process for Accounts Payable.
Integrated Amazon Business and Coupa catalogs, which allowed end users to quickly add items to their cart and submit for approval with Coupa.
Centralized intake of all Amazon Business orders via Coupa. Purchasing via Amazon Business was required to originate via the catalog, which provides extra visibility into all items purchased.
Central receiving: Refilling inventory stock levels with custom item receipts via Coupa.
Mobile capability for Purchase Request Approval.
100% Amazon Business Digital Invoice Enablement.
Compliance and Controls
Goods receipt and 3-way match for all Amazon Business orders prior to invoice approval.
Spend and visibility controls on all purchases made via Amazon.
Provisioned users via single sign-on (SSO), reducing the need for additional login for end users and simple deactivation of end-user access.
Our Impact
CrossCountry was able to meet a 5-week Amazon Business integration timeline and a 10-week Coupa implementation timeline while providing deployment, testing, and support before, during, and after the engagement.
"It is great to have Amazon Business incorporated into Coupa as we are able to create purchase orders using the familiarity of the Amazon website," said Camille Flournoy, Procurement Lead at Crusoe. "Additionally, Punchout has helped our accounts payable team because the invoices are processed automatically, saving everyone time!"