RPA is an emerging technology that is still quite new to most organizations. Some companies begin down the path of RPA adoption without the aid of a partner, inevitably running into challenges that slow progress and create a number of stops and starts that can lead to a crisis of confidence with their stakeholders.
Much of how organizations choose to approach their RPA implementation is rooted in their cultures, but it usually follow one of two paths. There are organizations that never bring in help and do everything themselves with custom applications and internal resources. However, over time this can lead to a sprawling system footprint with high maintenance costs and lack of interoperability. There are also organizations that leverage outside help with specialized expertise. This approach is typically most helpful for specialized projects, such as ERP implementations and emerging technologies.
Whether they leverage help for analysis and design, or for the full build, there are a few common considerations that can be taken into account when making an informed decision about how to execute on an automation strategy.
Technology
Is the technology you are trying to adopt emerging, as is the case with RPA, or mainstream, such as an ERP system? Early in the lifecycle of technologies, it can be difficult to stay abreast of all the changes in the product landscape. As part of the value they add, a partner invests the time to stay ahead of the emerging tech curve and has a deep understanding of new, complementary technologies. Partners can leverage their experience to help you make good choices about where to focus your efforts and where to hold off based on the maturity of the technology. Understanding where to invest time and effort through the help of a vendor can save you tremendous effort by avoiding getting tied into a platform vendor that struggles to adapt to the fast-evolving market.
New technologies also require unique and hard-to-come-by expertise. A good partner can bring ready-to-leverage knowledge developed over a long period of time, in many different environments, as well as hard-fought lessons learned to benefit your program. There's no better way to improve your chances of success than to learn from the mistakes of your competitors rather than struggle through the same challenges that somebody has already solved.
Timeframes
Do you have time to learn, or do you need quick results? One of the greatest benefits of bringing in a partner is the ability to accelerate your program. Many companies find that by leveraging a partner to help the launch, it serves to jumpstart the program. Partners bring expertise in numerous disciples, honed over many cycles that translate into frameworks that help you execute on your goals in an expedited fashion. Some areas where a partner can help with RPA include:
Proof of concept
Pilots
Center of Excellence
Bot development
Operations Support
A good partner can efficiently help you overcome challenges that are new to your organization because they have solved these same issues many times before. They can also help you to think through tactical and strategic areas of focus so work you do now can be built upon as your program scales.
Specialized Knowledge
Partners can be versed in many specialized areas of knowledge that are costly to develop and maintain internally. At the beginning of an automation program, the necessary skills to launch the program will be different than what is needed later on for maintenance. A partner can plug skills gaps for those specialized areas that are needed in the short term, leveraging their expertise to maximum effect, while you are gradually developing the skills and capabilities your organization will need in the long term.
The goal of a good partner should be to provide you with a path to accelerate progress, avoid pitfalls, and assist in transitioning ownership and operations to those organizations that wish to own them in the long term. Some typical areas of specialized knowledge a partner can provide include:
Program design
Specialized technical expertise in RPA
Health checks
Platform evaluation and selection
Best practices
Health checks
Program maturity
Cyber and security
This automation capabilities model illustrates the scope of knowledge areas that can come into play with a mature program. It's clear there is a broad list of focus areas that can benefit from experience and specialized knowledge, and building skills in each of these competencies can be challenging for many organizations. Specialized knowledge that consultants bring to an engagement can be an excellent solution to establish a foundation for success in your program.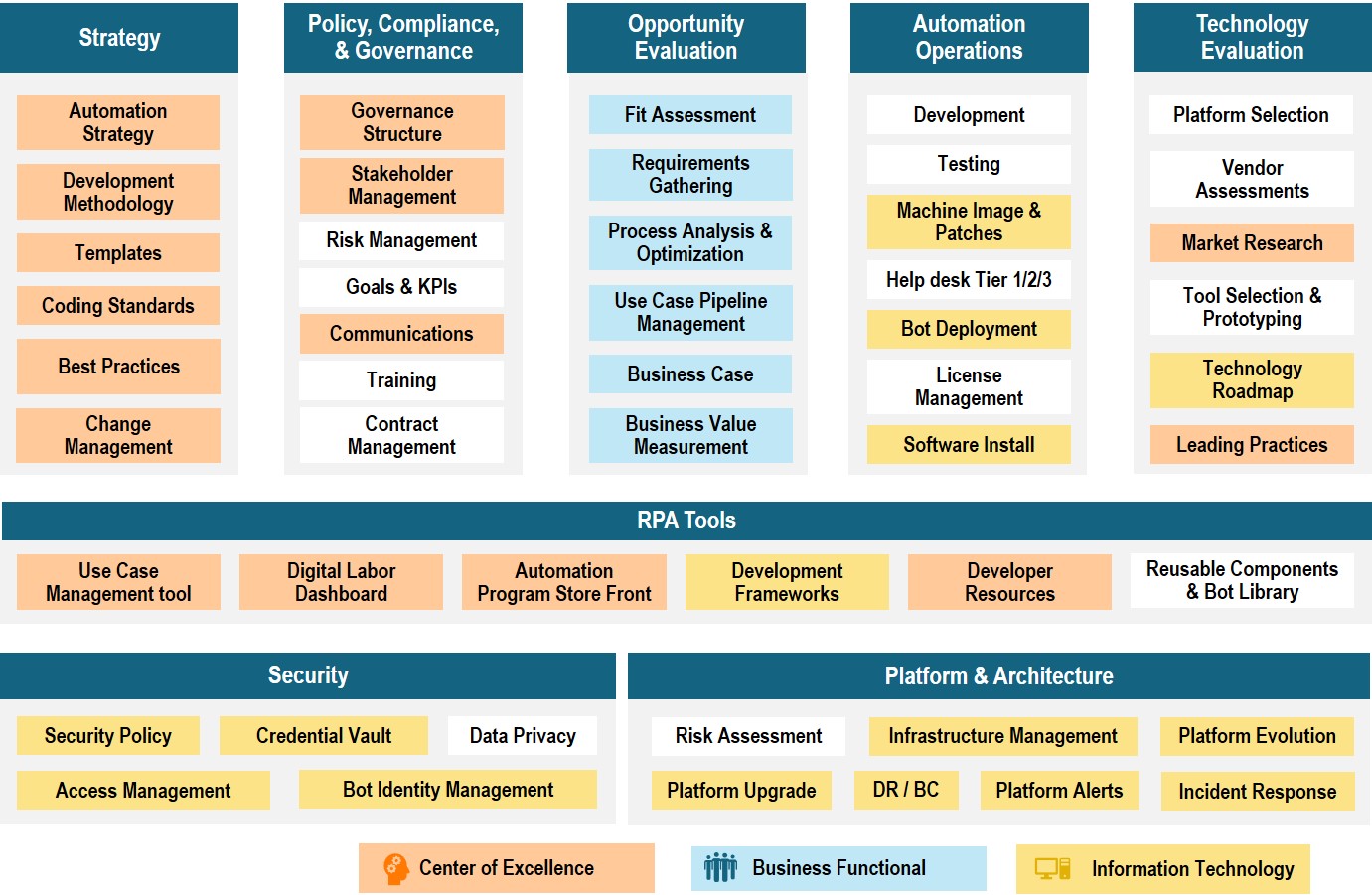 Domain Knowledge
RPA got its name because it is very tightly coupled with the business process. What separates RPA from traditional automation-using systems is that it completes the business process in the same way a human does, whereas traditional IT systems projects tend to replace the business process wholesale with an end-to-end system. The implication is that business-specific domain knowledge is highly important to building a robust and stable bot.
RPA lives and operates within the existing business and system environment rather than replace it. For example, a bot completing a journal entry requires an understanding of accounting, what a journal entry is, and how to ensure accuracy and quality. Traditional systems projects do not require the same level of understanding of the existing business process because the new system replaces the existing process. Choosing a business partner who understands both the business domains you are looking to automate as well as the unique culture of your organization are key factors in pulling off a successful RPA effort.
Standard Approach vs Tailored Approach
Our view is an approach leveraging well-defined methodologies, templates, and best practices that are tailored to your unique organization is preferable. Standardization of templates and methods is good and can serve as a springboard, but these tools are best utilized as an accelerator and not a one-size-fits-all approach. A good partner will listen to your needs, pain points, goals, and challenges, leverage their experience, and provide you with custom tools and tactics to deliver the business value you require.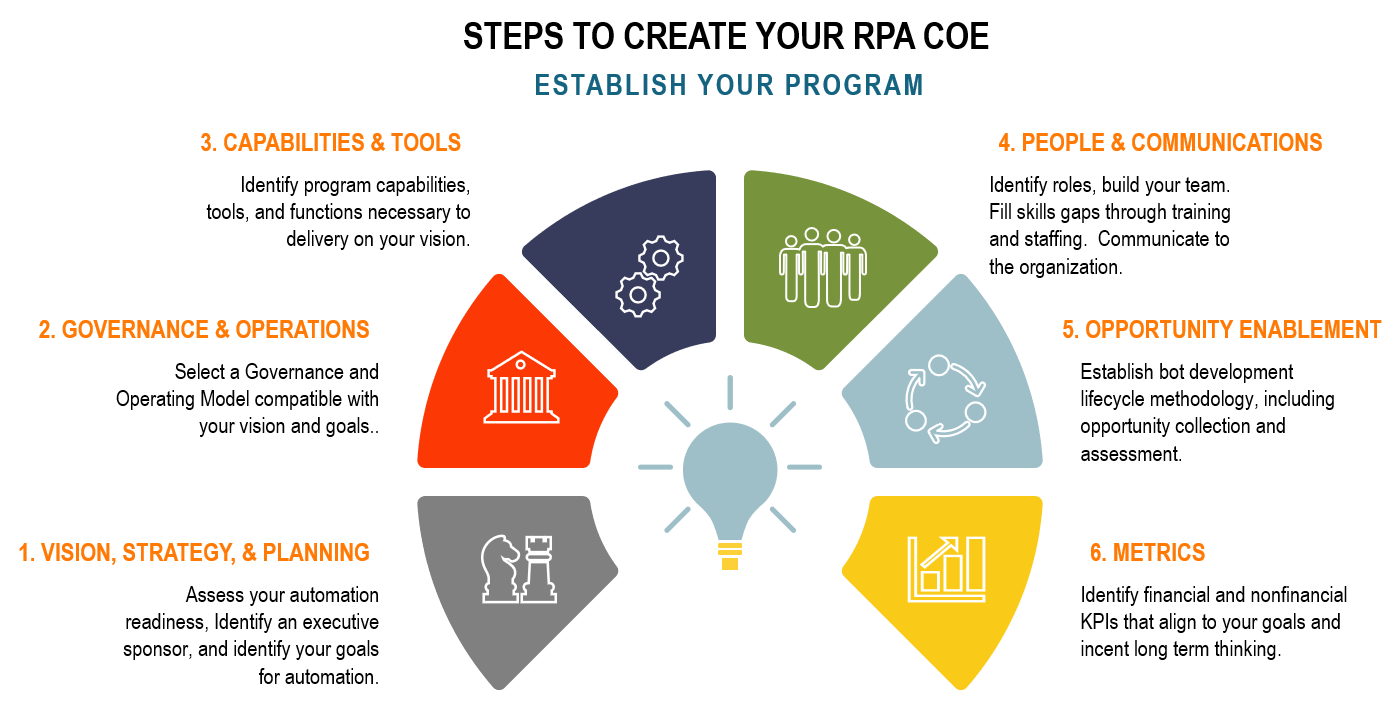 But be cautious. While there are ways to accelerate progress, a good partner will provide you with objective advice on what is realistic in terms of delivering a program to production. Be wary of a partner who simply agrees to deliver any scope in what seems like an overly demanding timeframe. The goal of any program should be to deliver value with acceptable quality. All too often, promises that are too aggressive will result in cost overruns, missed deadlines, and rework. A good partner will assist in helping you find the right balance between scope, quality, cost, and schedule.
Focusing on establishing the right program foundation of knowledge and capabilities will pay far more dividends than suffering through the question of which platform is the best. Some common partner strategies we have seen companies take include initiating a program with the client that takes on the challenge of scaling things out across the enterprise. Still, others rely on the partners to build and scale so that the client can stay focused on their regular "day jobs." Whatever strategy you employ, you are more likely to see greater value in a shorter timeframe by leveraging a partner.