With the artificial intelligence (AI) market projected to expand at a 37.3% annual growth rate through 2030 and 94% of enterprise professionals desiring a unified automation platform (rather than disparate tools), it's clear that progressive technology investments are table stakes for modern executives.
Alteryx Inspire 2023 boasted a key confluence of trends, timely topics, and exciting product announcements that support and reinforce this narrative. Several of CrossCountry Consulting's Technology Optimization & Digital Innovation leaders joined the event to explore and explain pervasive challenges faced by finance and IT teams and how human-centered automation programs can simultaneously elevate user experience and process efficiencies.
One of the primary takeaways from the event was the necessity for companies to optimize the analytics journey end-to-end. This means creating a standardized, repeatable pipeline of converting data to insights, insights to decisions, decisions to actions, and actions to tangible business outcomes.
Building Automation-First Organizations With AI Capabilities
Being insights-driven is no longer a nice-to-have: It's a must-have. During tough economic times, specifically, it's even more important to double-down on data and analytics capabilities, as they're critical to reducing costs and increasing productivity without adding headcount.
Some of the key discussions at Alteryx Inspire naturally revolved around automation and AI, with highlights including:
About 63% of organizations are at the beginner stage of their data journey, 35% at the intermediate stage, and 2% at the advanced stage.
It's no longer enough to focus on people, process, and technology. Organizations must also focus on strategy and data when building automation programs.
If data quality is bad, AI algorithms are bad. Data quality is nonnegotiable.
Modern tech stacks are integrating more and more data platforms, including Alteryx (access to analytics) and Snowflake (access to data). Together, platforms of these kinds enable businesses to tap into data and people across all functions, delivering greater insights.
Data analytics strategies must be holistic. With a broad view of company data, leaders can develop a data analytics strategy roadmap that generates incremental changes quickly that ultimately influence longer-term, sustainable wins. Implementation of data programs must be top-down through a center of excellence (CoE), not bottom-up.
Don't focus on data; focus on outcomes.
Build awareness, provide frequent updates, and build roadshow capabilities during the data analytics journey.
Explore expert Data Transformation & Analytics solutions that solve real-world problems
Accelerate strategic adoption of advanced technologies like AI, automation, analytics, and business intelligence platforms within a scalable systems architecture that works for your business today and tomorrow.
Common questions and themes that emerged from these discussions prompted attendees to consider:
Are there additional opportunities to automate, consolidate, and enhance within my organization?
How do I navigate the human factor when building and deploying AI and automation programs?
Change should not be defined in terms of "better" or "improvement." These words imply that current processes (and the people performing tasks) are negative or subpar, which can engender resistance to change. So how should I message change to the business?
The Age of AI: Alteryx Product Announcements
The new launch of Alteryx AiDIN, the AI engine that infuses the power of generative AI and machine learning (ML) across the Alteryx Analytics Cloud Platform, was also central to the event. Alteryx AiDIN combines the intuitive nature of generative AI with the trusted, secure, and enterprise-grade capabilities of the Alteryx Analytics Cloud Platform and is built to accelerate intelligent decisions across the enterprise.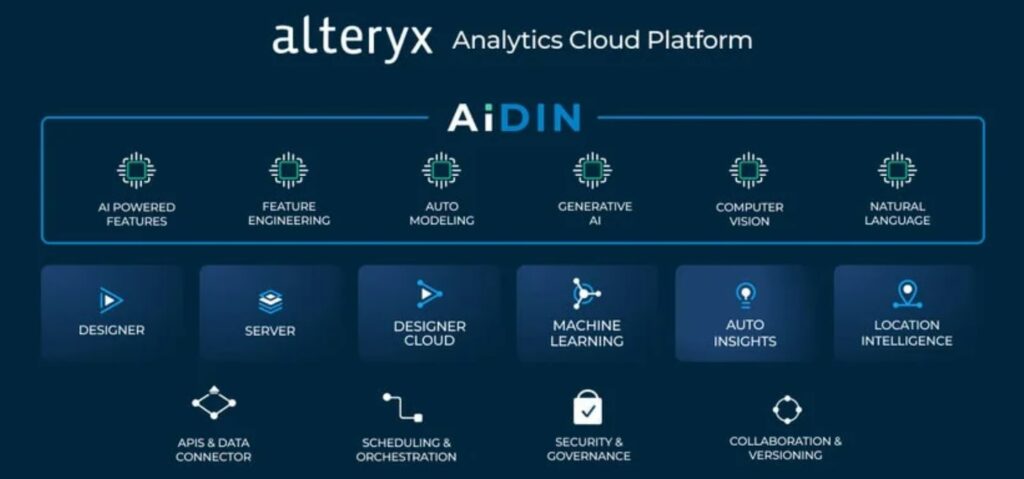 Other innovations include:
As innovation inspires and propels organizations to act now on analytics, automation, AI, and other leading technologies, the ability to strategize and execute effective implementation plans is critical.
For expert support implementing Alteryx or optimizing your Alteryx platform, contact CrossCountry Consulting.