To improve margins and increase efficiency over the enterprise, organizations often make the leap to centralize functions. Consolidating into a shared services model creates an opportunity for organizations to evaluate and optimize functions, systems, and processes to provide better support for the enterprise.
The functions and their associated processes often revolve around Human Resources, Information Technology, Accounting, Supply Chain, and other core business units. Migrating to a shared service model can free up internal resources and expedite rote tasks such as transaction processing, customer service, and other processes historically baked into the operating model.
On the journey to cost savings, operational efficiency, and continuous improvement, a shared services organization can be a beacon for realizing key goals.
Here are five factors leadership should evaluate when implementing a shared services model:
1. Evaluate Today's Functions
In all likelihood, the decision to implement shared services resulted from the desire to eliminate duplicative, decentralized, and manual processing. Before initiating consolidation efforts, it is important to perform a deep dive review of the current processes so that you understand the inputs, outputs, processing differences, and handoffs. To effectively design a future shared services model, your organization must first understand the challenges it is solving.
For example, leadership may know that different business units experience delays in obtaining invoice approvals for payment, but the underlying cause for the delays and subsequent challenges must be fully understood in order to correctly resolve these pain points through shared services. Moving a bad process to a shared services model will not make it a good one. Companies that attempt to automate or migrate away a fundamentally bad business process only shift (and potentially exacerbate) the issue.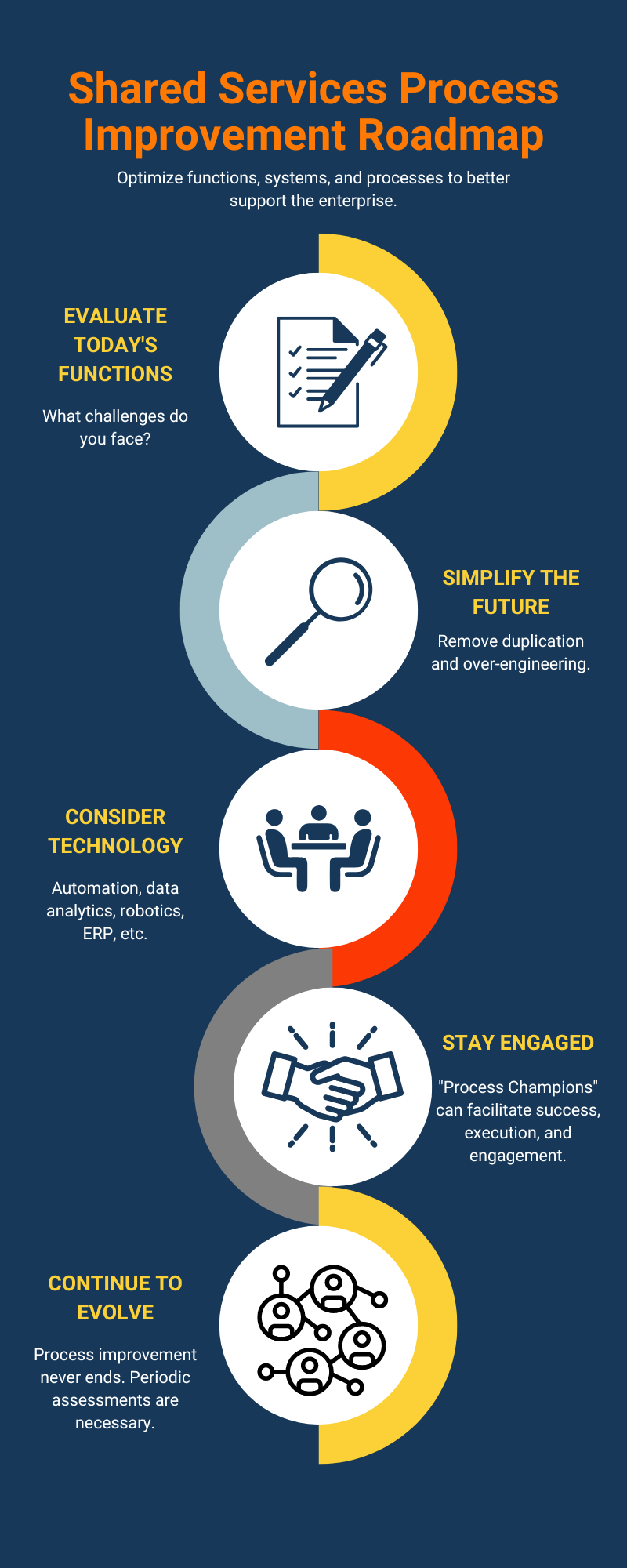 2. Simplify the Future
Once the organization fully understands the processes and corresponding challenges, it can pinpoint and eliminate areas of duplication and potential over-processing. For instance, if organizations require three approvals for invoice processing, this may be an area for evaluation, simplification, or automation if other process controls exist and provide appropriate governance to the function. This step also serves as the opportunity to introduce standardization and templates to inconsistent processes and ensure stakeholder alignment around what method the shared services model will support business units in the future.
Shared services process improvement seeks not to deploy new process bloat to an already heavily governed workflow; in many cases, it's about removing legacy processes entirely or minimizing any negative impacts that may cause to individual stakeholders or end users.
3. Consider Technology
While budgets for large projects vary, organizations have an opportunity to evaluate the use of technology during the design phase of a process. For many, leveraging technology provides several macro-level benefits, including reduction in manual error, creation of workflow to reduce or eliminate manual paper trails, and increased transparency into process and organizational performance.
Technology can also help at the micro level. For example, if the function targeted for shared services is highly repetitive, investing in automation or robotics may result in a positive return for the shared services center over time. This type of technology significantly reduces the human interaction with the process and provides employees with increased bandwidth to work toward more strategic initiatives, including continuous improvement and greater enterprise partnership.
Understanding and leveraging the data analytics generated from automation or other software applications can bring newfound insight into the efficacy of shared services operations. Analytics can also provide a template for uncovering new process improvement opportunities in other areas of the business. In other words, if a new process management framework performed well for Finance, can it be further leveraged to optimize service delivery or customer satisfaction?
4. Stay Engaged
To ensure the success of the new process and shared services model, it is critical for leadership to identify and engage stakeholder groups from the organization to support these efforts. Engaging stakeholders to become "process champions" to help with the evaluation and design is a logical decision and can help with the overall success of the initiative. Stakeholders that are closest to the processes have key insights into the current challenges and will be critical to designing a solution that is well received by their teams and the business units they support.
The success stories from one business unit should be messaged to others in the company. Together, a shared services team can help drive employee engagement, transparency, and the incremental wins of the ongoing business transformation.
5. Continue to Evolve
The opportunity to improve processes does not end once process flows are finalized and the shared services model is live. Periodic look-back assessments are critical to understanding the full impact of the changes to organizational performance and will help identify additional areas that may be improved over time through additional training and process or technology enhancements.
Implementing a shared services center can help organizations achieve a leaner support model for their business units. It is critical to evaluate and improve the processes that are targeted for consolidation so that future operations are designed to provide optimal enterprise support.
For expert support implementing shared services process improvement, contact CrossCountry Consulting.
Editor's note: Updated September 2022