Background
On Nov. 10, 2022, the Federal government released a proposal to amend the Federal Acquisition Regulation ("FAR") to ensure that federal contractors disclose their greenhouse gas (GHG) emissions, climate-related financial risks, and set science-based targets (SBTs) to reduce their GHG emissions.
The proposal, titled the Federal Supplier Climate Risks and Resilience Rule ("the Rule"), will cover 85% of the emissions associated with the federal government supply chain. The comment period for the Rule ended Feb. 13, 2022.
With the federal government being the world's largest purchaser of goods and services, spending more than $637 billion on contracts in 2021 alone, the proposal will have a broad impact on the contractors in the federal government's supply chain. Below is a summary of the proposal subject to updates based on comments provided and further reviews by the government
Proposed Requirements
The Rule would define two types of federal contractors:
Significant contractor.
Major contractor.
A contractor is a significant contractor if it received more than $7.5 million but less than $50 million in Federal contract obligations in the prior Federal fiscal year. There were approximately 4,413 entities considered "significant contractors," of which 2,835 are estimated to be small business (64%) in FY 21, according to the proposal.
A contractor is a major contractor if it received $50 million or more in federal contract obligations in the prior federal fiscal year. There were approximately 1,353 entities that received more than $50 million in federal contract obligations in FY 2021, of which 389 (29%) are estimated to be small businesses.
Major contractors that are considered a small business, according to the definition from the North American Industry Classification System (NAICS), have fewer requirements relative to other major contractors.
The requirements for each type of contractor vary with a major contractor having more substantial requirements than others.
The table below summarizes the requirements by type of contractor.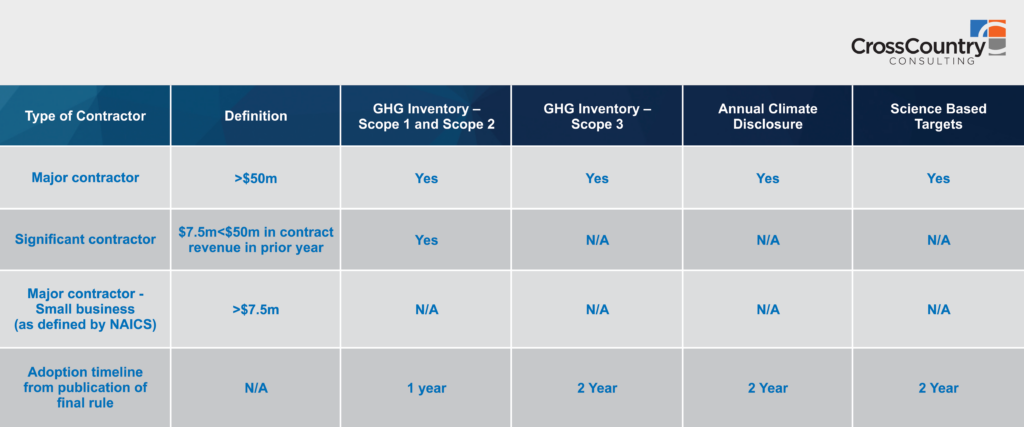 Certain entities are exempt from the proposed rules, including but not limited to higher education institutes, non-profit research entities, and state or local governments.
GHG Inventory
Contractors would be required to do an inventory and report the total of the following emission types within the current or previous fiscal years:
Scope 1: GHG emissions that occur from sources controlled or owned by an organization.
Scope 2: GHG emissions that a company causes indirectly when the energy it purchases and uses is produced.
The inventory analysis must follow the GHG Protocol Corporate Accounting and Reporting Standard. Contractors are also to report Scope 1 and Scope 2 emissions through the Systems Award Management (SAM) following its most recent GHG inventory. SAM is the system used by the federal government to collect information about suppliers.
In addition, only major contractors would need to do an inventory of their Scope 3 emissions and report these through the SAM. Scope 3 emissions are GHG emissions that result from assets or activities not owned or controlled by an organization but that still indirectly affect its value chain.
Annual Climate Disclosures
A major contractor is required to complete an annual climate disclosure within its current or previous fiscal year. The disclosures are aligned with Taskforce for Climate-Related Financial Disclosures (TCFD). TCFD is an international initiative created in 2015 by the Financial Stability Board (FSB) to develop a set of recommendations for disclosing climate-related financial risks and opportunities. The disclosure will also include a description of an entity's climate risk assessment process and any risks identified.
An entity would submit its annual climate disclosure by completing the CDP's Climate Change Questionnaire. CDP is an organization that runs the global environmental disclosure system and supports companies and cities in measuring and managing risk and opportunities on climate change. The annual climate change disclosure must be made available on a publicly accessible website that includes either the contractor's own website or the CDP website.
Science Based Targets
Major contractors are required to develop science based targets (SBTs). An SBT is a target to reduce GHG emissions in line with reductions to meet the goals of the Paris Agreement. These targets need to be validated by the Science Based Targets Initiative ("SBTi") every five years. The SBTi is a partnership between CDP, United Nations Global Compact (UNGC), World Resources Institute (WRI), and the World Wildlife Fund (WWF). The targets must be made available on a publicly accessible website.
Compliance Timeline
Contractors are required to have completed an inventory of their Scope 1 and Scope 2 GHG emissions starting one year after the publication of the final rule. Major contractors are required to submit annual climate disclosures via the CDP questionnaire and set SBTs to be validated by the SBTi starting two years after publication of a final rule.
If the significant or major contractor is unable to meet the requirements of the Rule, they will be presumed to be a nonresponsible federal contractor for federal procurement. The identification as nonresponsible may impact the ability for contractors to obtain further contracts with the government.
Comparison With SEC proposal on Climate-Related Disclosures
On March 21, 2022, the Securities and Exchange Commission (SEC) proposed rule changes that require registrants to include climate-related disclosures in annual reports and/or registration statements.
There is some overlap between the proposed Rule and the SEC's proposal. Both include a disclosure of Scope 1 and Scope 2 GHG emissions. The SEC disclosure is at the individual greenhouse gas level while this proposal is in aggregate. Both proposals include disclosures based on already-accepted standards like the GHG Protocol and TCFD.
The federal contractor rule proposal and SEC proposal diverge in some ways, too. Only the federal contractor proposal requires the use of the CDP questionnaire for its disclosures. Additionally, SBTs are not required to be set by a registrant under the SEC proposal. Although, if targets are set, additional related disclosures would be required.
Next Steps
The proposed federal contractor rule is a mechanism to drive consistent and comparable reporting across federal contractors.
With the broad push globally for more ESG-focused reporting, it's now time for these organizations, if they have not begun already, to think about how these proposals will begin to impact them. Companies can start preparing themselves by understanding the requirements, assessing personnel needs, and changing processes related to data collection, reporting, and control activities.  
For support understanding and implementing new requirements, contact CrossCountry Consulting.