Excluding salaries, benefits, and wages, organizations have two primary types of spend:
Direct Spend: purchases associated with products to be delivered to customers for sale. Raw materials, manufacturing equipment, and the services and labor to produce these materials into products that can be delivered and sold are considered direct spend.
Indirect Spend: purchases associated with running the business, excluding cost of goods sold. Costs like rent, utilities, general and administrative, and software typically purchased at a centralized level and allocated from a cost perspective are considered indirect spend.
The origination or purchasing entry point for direct and indirect spend will be decided by business requirements and the business spend management (BSM) application's ability to meet those requirements.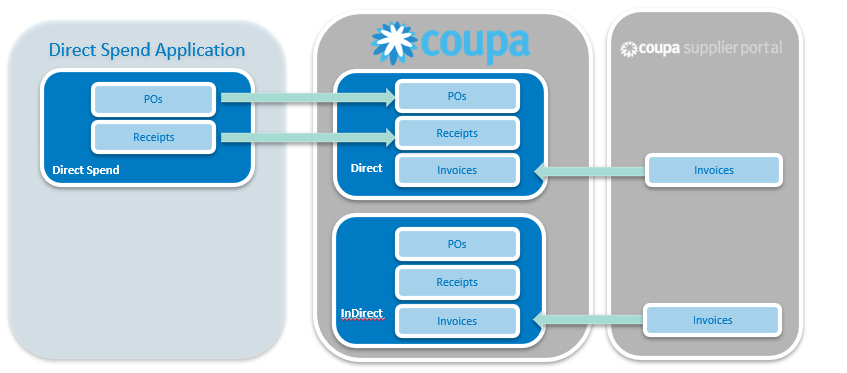 Business Process Considerations
Any organization considering the implementation of a BSM tool will have existing processes to manage direct and indirect spend. As these processes are critical to business function and revenue generation, organizations are mindful of any potential disruptions during a redesign.
The following considerations are critical to any business process redesigns:
Maintain Existing Automation & Efficiencies: Many organizations implementing a BSM tool may already have an efficient, automated, or semi-automated process for managing direct spend. If this process works well for the organization today, leave as much of the existing process in place as possible while integrating purchase orders into the BSM tool for invoicing and goods receipt for both spend types.
Disruption to End Users: Purchasing users have an existing process to procure required materials, goods, and services for both direct and indirect spend. If there is overlap between these groups, it may be challenging for certain users to start purchasing in one system for direct spend and another system for indirect spend. When designing the process, separate users into distinct groups focused on direct and indirect spend and evaluate the process from each perspective with the goal of users operating in a single system as much as possible. Guide users to one central purchasing point based on type of user and avoid the decision-making process for application 1 or application 2 based on spend type.
Centralized Invoicing and Integrations: With spend originating in two separate systems, integrations should be completed to support invoicing within one central application to maximize efficiency and limit vendor confusion. Use integrations from direct spend applications into one central invoicing application, like Coupa. This way, end users may create requests in two different systems based on spend type; however, 100% of supplier invoicing occurs and originates within one application. Leading applications like Coupa provide automated routing for invoices and receipts and invoice automation superior to direct spend/material requirements planning (MRP) applications supporting this guidance. Different invoice channels for suppliers based on spend type is a complex process; entry within one system removes this step from the implementation process.
Reporting: With direct and indirect spend originating in two systems, a single system should be designated to capture 100% of spend for reporting purposes. Purchase orders are integrated into Coupa, and invoicing occurs in Coupa allowing for one centralized application for spend reporting. Coupa's advanced Analytics module provides BI-like reporting ability, and, even without this module, Coupa's standard reporting functionality can meet most spend reporting business requirements.
Leading BSM applications like Coupa can deliver and support origination points for both spend types within one centralized application or decentralized within multiple applications. Implementing a BSM application in alignment with this proposed approach will optimize and simplify your process for end users and vendors and provide centralized reporting.
For expert implementation support, contact CrossCountry Consulting.