When navigating procurement software packed with a variety of user pathways, it's not always easy to know exactly where to begin the intake process. There are forms, fields, pop-ups, links, buttons, and other navigation cues – are some better or faster than others?
You don't know until you go down each pathway. Until now.
Coupa's largest release of the year, R35, is packed with new features like Guided Experience that specifically addresses user indecision and promotes a frictionless, practical interface.
Available to all Coupa customers in January and February of this year (depending on your release schedule), Guided Experience centralizes the point of origin for all procurement requests, improving system adoption and solving the intake-to-request challenge facing procurement, finance, and legal teams.
A Closer Look at Guided Experience
From the moment R35 hits your Coupa instance, you'll notice a fresh homepage.
For users unsure where to start, the Guided Experience feature – located to the right of the familiar search bar titled "Not sure? Let us guide you" – facilitates intuitive navigation.
By using this feature, users are guided step-by-step through their purchases within Coupa. Users are asked simple questions, such as type of purchase or new vendor addition, and all requests start with a centralized intake location. Workflows and documents including contracts, new vendors, and purchase requests can be launched from here.
Another key feature within Guided Experience – "Guided Buying" – will be a game-changer in user adoption due to its ease of use and ability to remove user guesswork. Guided Buying expedites user navigation through a native search engine, enabling you to quickly find answers to questions.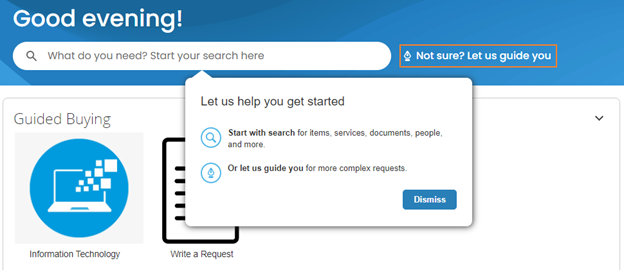 The familiar search bar is still available at the top of the homepage and throughout the application, but it has taken on an upgrade.
Not finding what you're looking for from the search results? A link at the bottom of the search results page directs you through the Guided Experience.
Alternatively, if you use Guided Experience and are looking for an item that's available via a catalog, you're automatically redirected to relevant search results and prompted to place your order.
Increasing Personalization Within Guided Experience
Want to get even more powerful?
With a few configuration updates by your Coupa admin, you can personalize the experience for your users and organization. You can also highlight popular commodity categories and frequently used forms to point users directly to where they need to go. Of course, the option to write a request remains available but is now needed only for infrequent purchases and forms.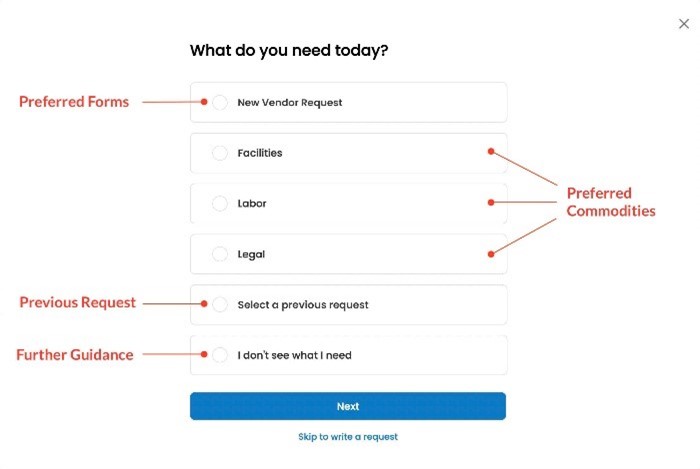 Guided Experience further simplifies searches and workflows with Forms. Highlights include:
Through artificial intelligence (AI), frequently completed, and even previously completed, forms are suggested to users.
Admin users can label Preferred forms.
Forms are streamlined by showing only required fields.
Fields are still available to complete by selecting the option "View advanced fields."
Forms appear and are completed within the pop-up module, limiting unnecessary movement throughout the interface.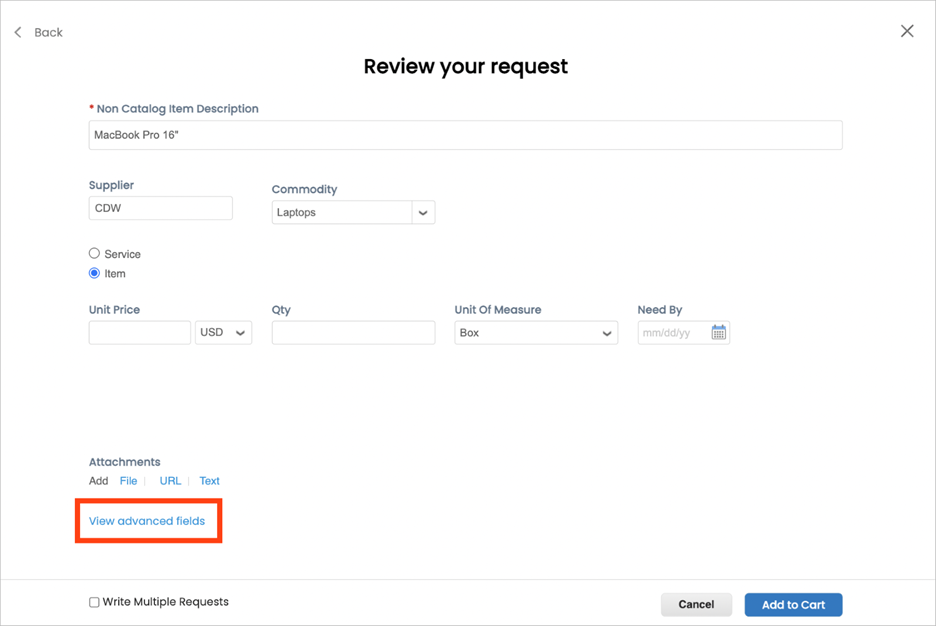 Out of the Box for New and Existing Coupa Customers
Coupa's Guided Experience is available right out of the box with R35; however, customization does need to be configured by your Coupa admin.
Are you an existing Coupa customer needing help maximizing Guided Experience? Still deciding on which business spend management (BSM) application is right for your organization?
Contact our Release Management team to ensure your application centralizes purchasing requests.