Pervasive economic volatility, technological innovation, and regulatory change call for an advanced, forward-thinking approach to risk management.
The necessity of a new risk management framework is evidenced by the Institute of Internal Auditors (IIA) recently refreshing its Global Internal Audit Standards and the Committee of Sponsoring Organizations of the Treadway Commission (COSO) releasing a new edition of its Fraud Risk Framework.
These updates are in response to the complexity and volume of dynamic risks modern organizations continuously face. The updates also support and inform the creation of new risk management strategies and perspectives that shift the way risk, financial, and operational leaders are thinking.
What if risk could be harnessed as a strategic ally for business success? How can current and future risk universes be transformed into real business drivers?
What Is Risk Transformation?
Risk transformation prompts organizations to seamlessly align enterprise-wide risk management practices to overarching business strategies. Doing so enables risk practitioners to inform and lead business decision-making on how to best navigate risk complexity and how to view risk not as a challenge but as an opportunity that can drive strategic success.
Organizations that take a risk transformation approach can turn holistic risk anticipation and mitigation into differentiators and create new enterprise and market value.
Additionally, by positioning risk as a strategic driver of success, the future of risk management becomes much more data-driven and technology-enabled by the latest advancements in progressive automation, analytics, cloud, artificial intelligence (AI), and machine learning (ML) technologies. This tech-forward approach is supported by standardized processes, sustainable controls, and timely insights that streamline and elevate decision-making.
Explore expert Risk Management solutions that solve real-world problems
Understand emerging threats, changing regulations, and evolving technologies – then formulate actionable, pragmatic strategies to reduce risk across the enterprise.
Unlocking Value: The Benefits of Risk Transformation
Embarking on a risk transformation journey might initially seem daunting, but the realized value can be significant, as demonstrated by the benefits outlined below:
Enhanced risk visibility across the organization: By leveraging data and advanced technologies, organizations can better understand and act on their risk landscape. This increased visibility enables agile, real-time risk management that adapts to evolving risks and empowers risk leaders to make decisions that are optimized for value creation – not just risk remediation.
Risk as a strategic ally: No longer viewed as just a challenge, risk is pivotal to strategic decision-making. Enterprise-wide risk management practices and corporate business strategies inform and align with each other, allowing functional and business leads to preemptively look for ways to transform operations now that risk is perceived as a strategic ally.
Proactive risk management: An agile approach to risk management means organizations can proactively anticipate emerging risks rather than just responding to them. This forward-thinking perspective ensures better preparedness and resilience in the face of uncertainties.
Streamlined internal control framework: Prevention and mitigation of risk is simplified with best-in-class controls embedded in business processes, data, and technologies. Controls are designed with standardization and automation, driving excellence and consistency in the control environment and reducing the burden and cost of compliance.
Improved employee experience: With a reduced compliance burden, employees can focus on efforts that drive strategic objectives and add value to the organization, opening up meaningful career paths to staff.
The Risk Transformation Maturity Model: A Roadmap to Success
The first step toward successful risk transformation is for organizations to understand their maturity and define what success looks like to them. The risk transformation maturity model below illustrates the advancement of risk management practices across data, processes, technology, and people: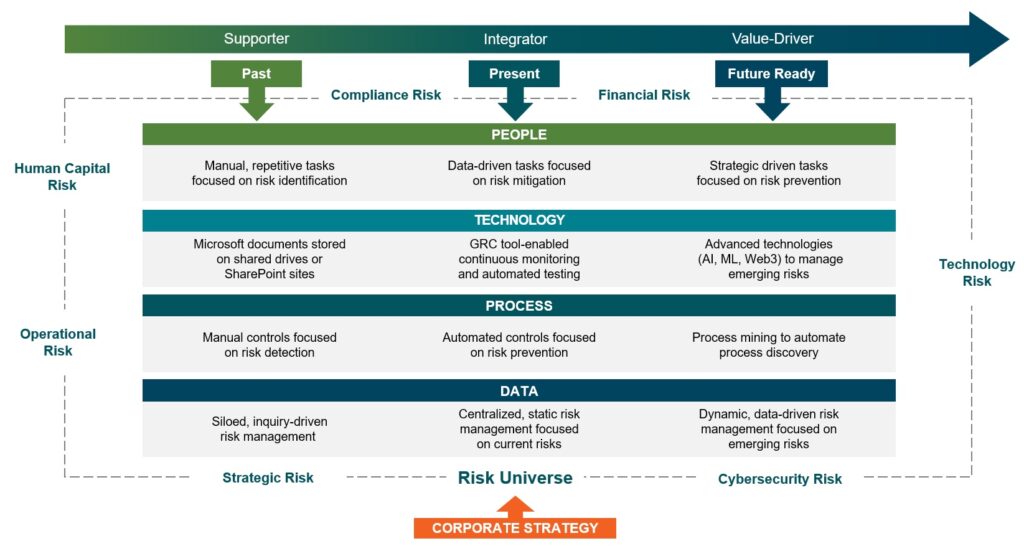 After understanding their current position in the risk transformation journey and the desired future state, risk leaders can develop an actionable roadmap to achieve a new, transformed risk function. Considerations on the roadmap may include:
Aligning risk practices with overarching business strategies.
Implementing dynamic risk assessments.
Developing an approach to anticipate and adapt to emerging risks.
Evaluating and streamlining the control environment.
Deploying continuous monitoring and automated testing.
Enabling innovative technologies.
Building a Resilient Future
Risk transformation isn't just a trend; it's a necessity for organizations looking to thrive in a rapidly evolving world, and it's the clear future of risk management. With streamlined processes, centralized data, and leading technology, organizations can enhance risk management practices to see around corners, drive growth, and achieve sustainable success.
For expert support in navigating a successful risk transformation, contact CrossCountry Consulting.