Observing a backlog of key filers, including Stripe and Databricks, several highly valued companies are in various stages of IPO planning without having officially made the jump. That changed in September with British chip company ARM's successful $5 billion IPO – the biggest in 2023.
The move has fueled further interest in profitable exit strategies in a range of industries, creating renewed momentum for pre-IPO companies still on the sidelines. Case in point: Quickly following ARM's IPO, Instacart increased its own IPO price range nearly 10%. Birkenstock took a more conservative approach with its pricing strategy but still managed to successfully raise $1.48 billion in its October IPO.
This uptick in IPO activity mirrors pursuits in the M&A (Microsoft's $69 billion acquisition of Activision subject to FTC approval) and private equity spaces (Thoma Bravo's take-private of NextGen Healthcare for $1.8 billion).
Regardless of the type of exit, companies transitioning into the next stages of their lifecycles will require substantial infrastructure investment. Fortunately, that transformation is consistent across exits, as the shift to a more efficient, de-risked operating model smooths the path toward a successful transaction.
Exit-Readiness Assessment: A New Corporate Baseline
An exit-readiness assessment is a review of the current state of all critical business functions, timelines, stakeholders, costs, and transformation required to meet the higher standards of future reporting requirements.
The assessment documents the gaps in current-state operations relative to the future state and provides a roadmap for bridging those gaps, often in the form of upgrading or implementing technology, standing up a more effective process architecture, and aligning talent and investments to necessary areas of the business.
It's a moment of self-reflection for corporate leaders: Do they have what they need and what it takes to execute a successful transaction?
The graphic below illustrates common changes and characteristics between a typical private company and one that is exit ready: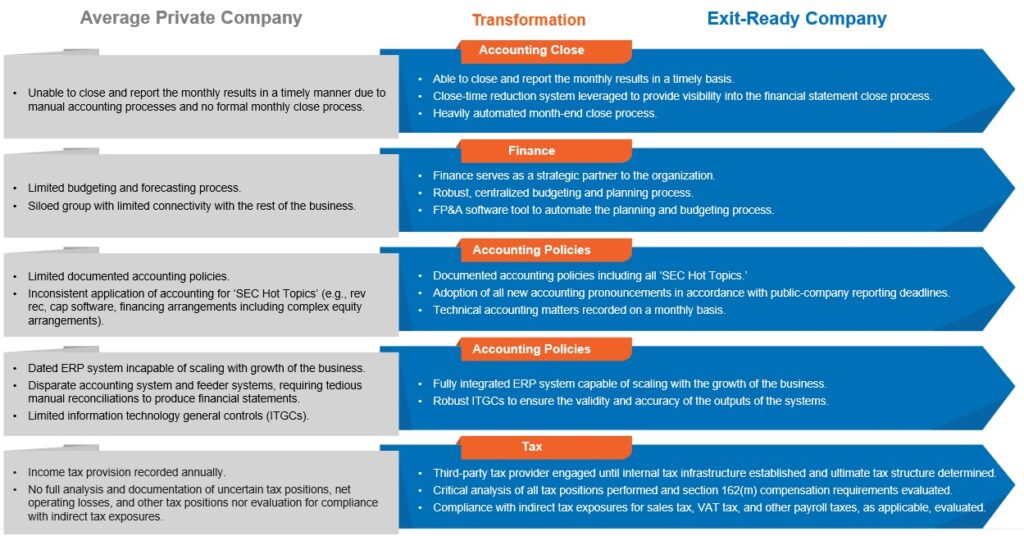 These activities represent core areas of the business that must be high-functioning and high-performing prior to an exit. While starting with these five areas is a good practice for aligning transformation priorities, there are several other areas of the business that will need to be established or optimized, as seen in the graphic below: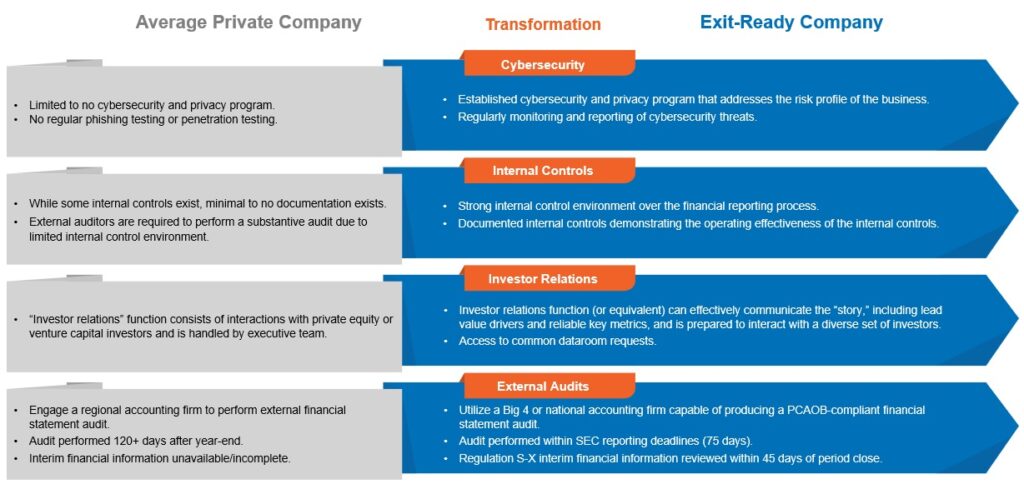 Proactively Improve Functions and Capabilities
An exit-readiness assessment delivers numerous benefits, such as:
Developing an exit-ready timeline across functions.
Identifying potential exposures and mitigating risks before a transaction.
Developing a plan to address any identified exposures, including hiring strategy.
Ensuring compliance with all applicable laws and regulations.
Evaluating quality and required effort of financial statements.
Improving internal controls over financial reporting.
Communicating effectively with investors.
Increasing chances of a successful transaction.
Improving corporate governance practices.
Strategizing for deal synergies and realizing the investment thesis.
Accounting for integration challenges and how to overcome them.
To achieve these outcomes, companies must either establish new functions entirely or enhance key activities they already perform. In the chase to develop a product, define a unique vision, and gain market share, many of the core non-customer-facing areas of the business go overlooked. An exit-readiness assessment is the time to enhance corporate hygiene and play catchup on many of the functional areas that weren't vital during earlier stages of the company lifecycle.
Plan for an Efficient Exit Process Now
Companies or funds planning an exit event in the near future must begin implementing operational enhancements far in advance to ensure they're consistently and successfully rolled out. To take the next step in the investment lifecycle, contact CrossCountry Consulting for a proprietary exit-readiness assessment.